Did you know that March is Women's History Month? The celebration was started in the 1980s by the U.S. government to pay tribute to generations of influential women.
To celebrate, here's a roundup of just some of the most influential women in statistics:
Florence Nightingale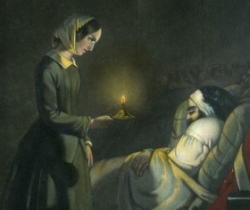 While Florence Nightingale is known as the founder of modern nursing, you might not know that she is also a celebrated statistician. When tasked to serve at a British hospital in Turkey during the Crimean War, she worked to address many issues, including an overworked medical staff, neglected hospital hygiene, and inadequate supplies. By the time she and her team left Turkey in July 1856, the hospitals were improved and death rates reduced significantly. How'd she do it?
She was able to analyze medical data she collected and present it graphically, thus making it clear that lack of sanitation was the main cause of wartime death—not the short supply of medicines or lack of food. She also used data analysis to reveal that in peacetime, soldiers in England died at twice the rate of civilians, confirming that military health service inadequacies were causing more damage than was previously thought. Nightingale's work led to health policy reforms that saved the lives of countless British soldiers.
You can read more about Nightingale in a past blog post I wrote: An Unlikely Statistician: Florence Nightingale
Gertrude Cox
Known as the "First Lady of Statistics," Gertrude Cox was an American statistician and founder of the Department of Experimental Statistics at North Carolina State University. Later, she was appointed director of both the Institute of Statistics of the Consolidated University of North Carolina and the Statistics Research Division of North Carolina State University.
Her research dealt primarily with experimental design, and while she began to teach courses on design of experiments in 1934 at Iowa State, her design material wasn't officially published until 1950 when she collaborated with W. G. Cochran to write Experimental Designs.
In 1949, she became the first woman elected into the International Statistics Institute, and she was elected President of the American Statistical Association in 1956.
Check out this short bio on Cox from the National Academy of Sciences—I found Cox's early life especially interesting!
Janet Norwood
Janet Norwood was the first female commissioner of the United States Bureau of Labor Statistics, first appointed in 1979 by Jimmy Carter and reappointed twice by Ronald Reagan. Her contributions focused primarily on government statistics, including economic and political data, employment and unemployment statistics, and the Consumer Price Index.
In 1989 she was elected president of the American Statistical Association, and also held offices at the International Statistical Institute and the Urban Institute, among many other professional associations.
The American Statistical Association posted the following article on Norwood's life: http://www.amstat.org/about/statisticiansinhistory/bios/norwoodjanet.pdf
Who are other influential women in statistics? Tell us in the comments!
Illustration of Florence Nightingale courtesy of Wellcome Images, used under Creative Commons 4.0 license.