This week we're celebrating the annual Thanksgiving holiday in the United States, which is not only a good time to reflect on the things we're grateful for, but it's also a good time to stuff yourself with turkey, mashed potatoes, green bean casserole, and the usual suspects that find their way to the Thanksgiving table!
While I'm of course very thankful for my family, friends, home, etc., I'm also thankful for some features in Minitab that have made my life easier (especially as someone who is not a trained statistician or professional data analyst!). I look at these features like the yummy homemade gravy on top of my mashed potatoes—while the gravy isn't really a necessity, it sure makes those potatoes taste better! The Assistant menu is one Minitab feature that makes statistics "taste" better to me because it makes many concepts clearer and my results understandable.
But what is the Assistant? It's a built-in menu within Minitab that contains interactive decision trees to help you choose the right tool, and then walks you through your analysis step-by-step. It includes guidelines to ensure your analysis is successful, has a simplified interface that is easy to follow, and provides comprehensive reports and interpretation of your output that you can use to present and share your results.
You can find the Assistant menu to the right of the Help menu:

You'll see that it includes options for Measurement Systems Analysis, Capability Analysis, Graphical Analysis, Hypothesis Tests, Regression, DOE, Before/After Capability Analysis, Before/After Control Charts, and Control Charts: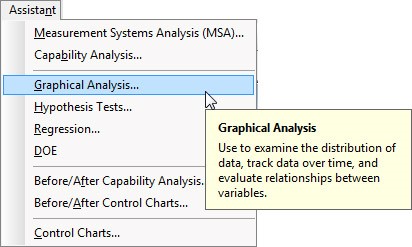 For example, if you choose Graphical Analysis, you'll see the following screen with graphing options for your particular objective: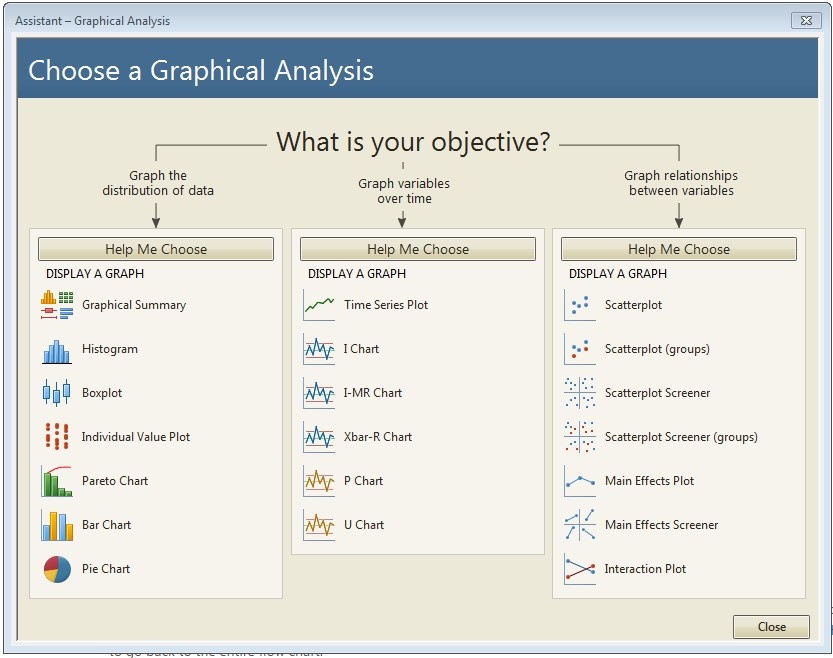 And if you're left not knowing which graphing option is right for your objective, the "Help me choose" link will take you to a flow chart with decision trees to lead you in the right direction: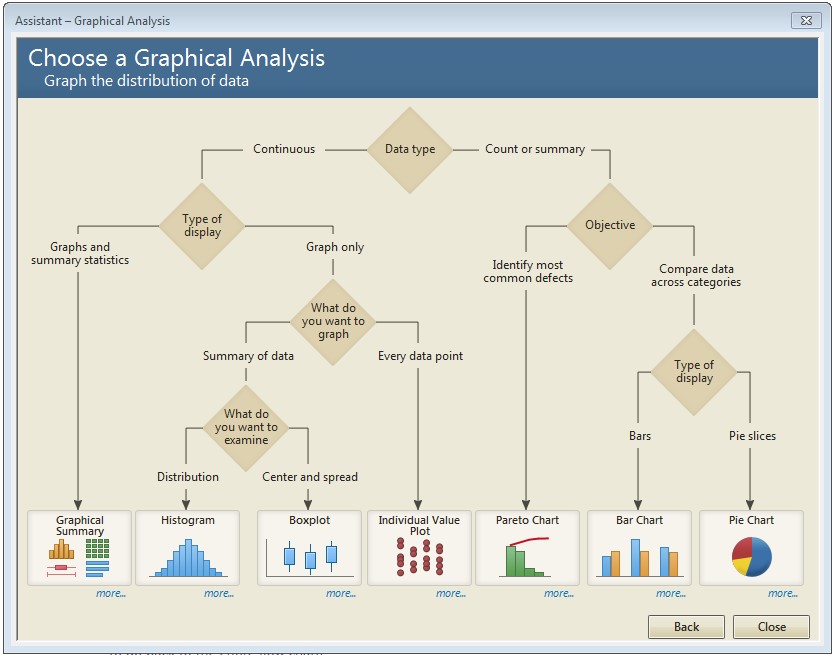 Pretty cool, right? And once you've selected the chart that's right for you, you'll have access to guidelines for collecting your data and using your chart.
For more on how the Assistant works, I recommend checking out our Quick Start exercises, which walk you through some examples using the Assistant:
Would You Survive a Voyage on the Titanic?
Help That's Really Helpful
One other Minitab feature I'm very thankful for is the built-in Help content, which includes concise overviews of major statistical topics, guidance for setting up your data, information on methods and formulas, comprehensive guidance for completing dialog boxes, and easy-to-follow examples.
And that's not all—Minitab's built-in help options also include:
StatGuide: After you analyze your data, the StatGuide helps you interpret statistical graphs and tables in a practical, straightforward way. To access the StatGuide, just right-click on your output, press Shift+F1 on the keyboard, or click the StatGuide icon in the toolbar:

Tutorials: For a refresher on statistical tasks, take a look at tutorials (Help > Tutorials), which include an overview of data requirements, step-by-step instructions, and guidance on interpreting the results.
Like including some extra gravy to liven up those Thanksgiving mashed potatoes, the Assistant and built-in Help options in Minitab make statistics taste better to me! Happy Thanksgiving!