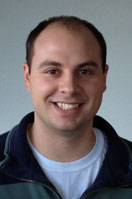 My name is Eric Heckman, and I am a Technical Support Specialist for Minitab. A couple of years ago, back when I was a freshman in college, I was introduced to Minitab, and statistics as a whole. Trying to process all the new statistical concepts at once was tricky, especially while learning a piece of software on top of it. I know what a challenge statistics and statistical software present, especially if you're unfamiliar with the subject, or computers in general.
At Minitab, we strive to make the software user-friendly, but there is still a learning curve, and sometimes it can get frustrating. That's why I'll be using this blog to help show you some of the basics within Minitab, as well as answering some of the frequently asked questions I see come across the tech support desk.
Minitab offers a wide range of statistical tools, so my posts here will cover a variety of topics. I hope you find something useful to you in the area of Minitab you work in. Remember, the trick to starting something new is to not be intimidated! If you stick with it, you may just learn to love statistics just as I have!