You might not have known, but September is Attendance Awareness Month. Specifically, attendance of children at American public schools. The organization Attendance Works recently came out with a report that highlights the learning gap between students with strong attendance and students with poor attendance.
Statistical software helps us quickly and easily create graphs that make it easier to understand what a set of data is telling us. To encourage everyone to recognize the importance of school attendance, here are some Minitab graphs of data shared by Attendance Works and other researchers that the authors cite.
Attendance's association with academic performance
The main point of the Attendance Works report is to point out the association between attendance and the National Assessment for Education Progress (NAEP).
Students who routinely miss school, tend to score more than one grade level below their peers on math and reading assessments in 4th and 8th grade. It looks like missing school makes academic achievement harder.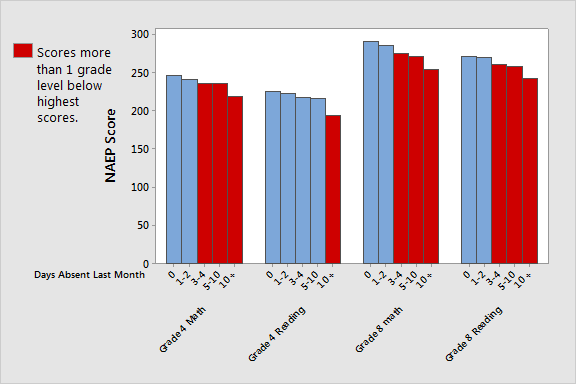 Well-begun is half done
Data from California in 2011 shows that being chronically absent in kindergarten and first grade has a strong association with whether a child is a proficient reader in 3rd grade. Only 17% of students who were chronically absent in kindergarten and first grade achieved a proficient score on a test of the English language given in 3rd grade. Of students with better attendance records, 64% achieved a proficient score.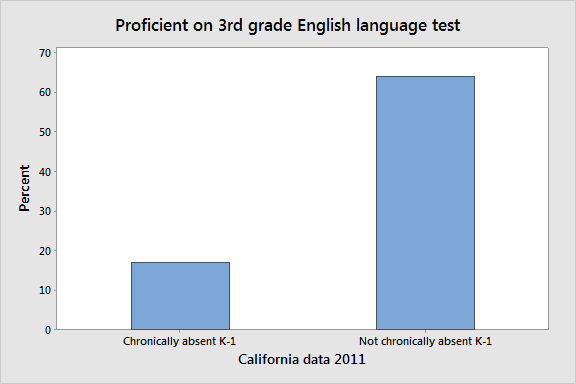 Not just a problem in high school
Data from students in Rhode Island indicate that even when chronically absent students can graduate from high school, they will likely struggle to continue their educations successfully. Only 11% of chronically absent students went on to a second year of college education, giving them a chance to finish an associate's degree. Over 50% of students who were not chronically absent in high school were able to begin a second year of college.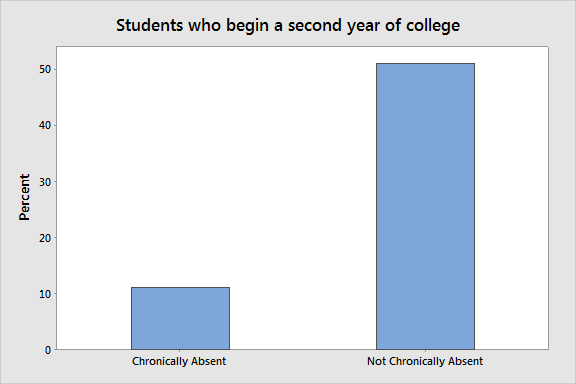 Go to school
I've been fooled by the difference between correlation and causation before. It's entirely possible that other factors could impede a child's learning whether they attend school properly or not.
Attendance Works identifies that some potential causes for chronic absenteeism might include lack of access to health care, community violence, unreliable transportation and unstable housing. These problems could also be responsible for poor school performance. But we should be on the lookout for absenteeism as a symptom that other problems need to be addressed and take the initiative to help solve those problems.
For tools for people from all levels of involvement, from parents to city leaders, go to http://www.attendanceworks.org/tools/
Bonus
For Attendance Awareness Month 2013, the Oakland County School district made a music video featuring Marshawn Lynch. Check that out!