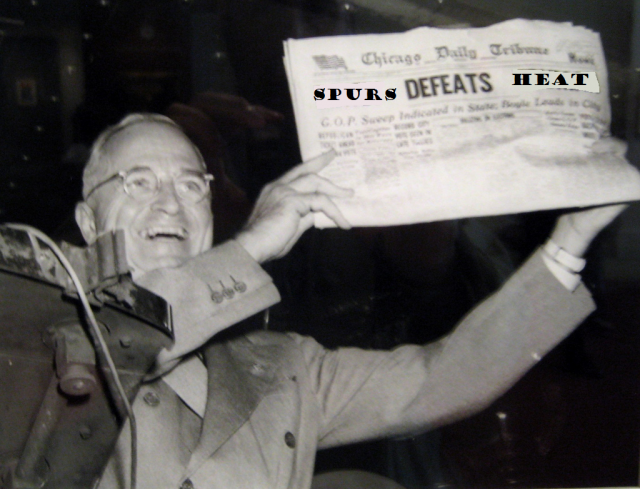 Let me be direct. Lask week I wrote that "while a game 4 victory gives the Heat renewed hope, history is still on the side of Tony Parker, Time Duncan, and Manu Ginobili in their quest to win a fourth championship together."
The implication is clear. I thought that because the Spurs had been the first team to get to two victories in the 2013 NBA finals, they were going to be the first team to get to 4 wins.
As any competent biostatistician with a British Science Association media fellowship can tell you, "correlation is not causation." I promise it was just a momentary lapse.
Here's a list of things I don't routinely do:
My one consolation is that it was really easy to say that because game 3 winners have been successful in the past, the same would hold true in the 2013 NBA finals. A comprehensive analysis of the NBA finals after game 3 would take into account position-by-position matchups, average scoring, home-court advantages, and even variables that are barely measurable, such as coaching ability and Tony Parker's health.
When there are so many factors to consider, the temptation to rely on a crutch to explain the randomness in the world is close to irresistible. I think that's the same reason it's so tempting to sell stock when an original AFL team wins the Super Bowl. We know that there's so much randomness in the world that it's comforting to believe that the same factors that explain what will happen to the stock market somehow also affect sports champions.
So l got fooled by the NBA finals, which was disappointing. I was planning a nice blog post that would explain that correlation is not causation. I was going to talk about how even though the Spurs had won the series, it wasn't because they had won game 3 -- it was because they had won 4 games out of 7. Otherwise, why play the games? Otherwise, how could you explain what happened to the Heat in 2011, or the Lakers in 1984, or the Sonics in 1978?
Otherwise, how could you explain what happened to the Spurs in 2013?