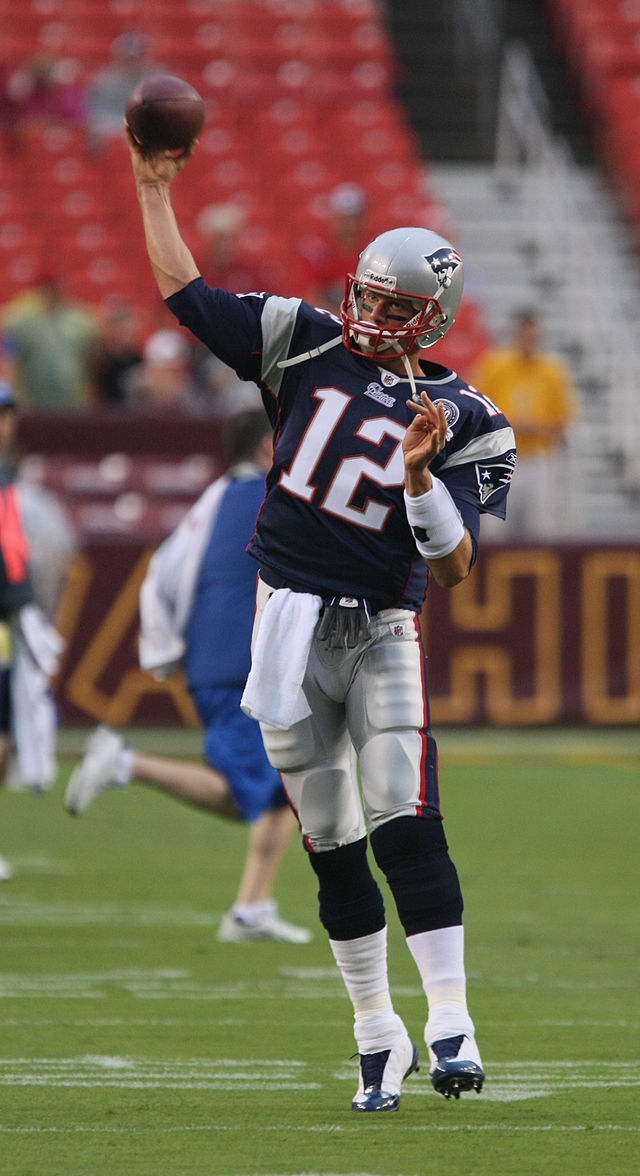 There's no shortage of interest this week in whether Tom Brady is the best quarterback to ever play the game of football. As a University of Tennessee alum, I have to recuse myself from that particular debate for lack of objectivity. (Everyone knows Peyton Manning is the best quarterback to ever play the game, right?) But now seems like a good time to look at some numbers that show where Brady fits among the greatest Super Bowl quarterbacks of all time. The passing data are from NFL.com and include only post-merger statistics, with my apologies to Bart Starr, Joe Namath, and Len Dawson. In the graphs that follow, gold indicates a good result for a quarterback and black indicates a bad result.
Narrow the Field
When making the case for someone to be the best Super Bowl quarterback ever, a common starting point is the number of victories. Joe Montana, Tom Brady, and Terry Bradshaw belong in the rarefied group of quarterbacks who have won 4 Super Bowls. Troy Aikman is the only other quarterback to have won at least 3 Super Bowls. If we use the number of victories as a standard for determining the best Super Bowl Quarterback ever, then these 4 make a good list of candidates.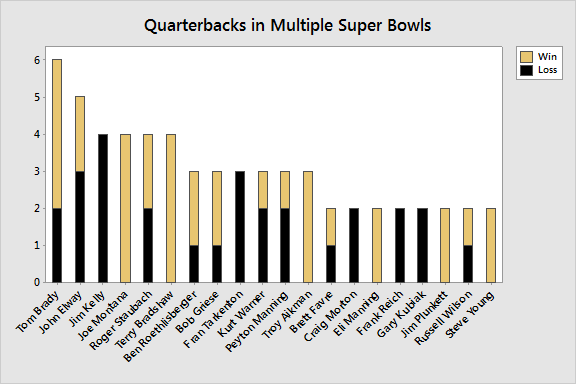 A Look at Passing Statistics
We could compare passer ratings among the quarterbacks, but it's a little unfair across time. While not necessarily a perfect statistic, I'm going to compare each quarterback's median passer rating in victories to the median passer ratings of other Super-Bowl-winning starting quarterbacks before and after their victories. I'm using the median because Jim Plunkett's passer rating was so good in Super Bowl XV, and Ben Roethlisberger's rating was so bad in Super Bowl XL, that I think using the mean would give an unfair advantage to Brady over Bradshaw and Montana. Here's what the passer rating comparison looks like: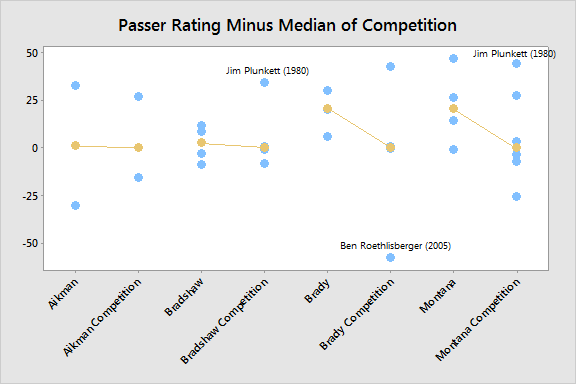 In terms of the median, Aikman and Bradshaw have comparable passer ratings to other Super-Bowl-winning quarterbacks near them in time. Brady and Montana are better than their contemporaries. Amazingly, the difference of medians between Brady and his competition is identical to the difference of medians between Montana and his competition: 20.4 points.
The need to try to refine the analysis to compare Brady and Montana more closely leads me to consider an item that comes out in favor of the conclusion that Tom Brady is the best Super Bowl quarterback ever. This last graph shows the same median statistics for the quarterbacks as the previous graph. Each point is labeled with the margin of victory from that Super Bowl. Joe Montana's best games, while extraordinary athletic accomplishments, came during Super Bowls where his team was much better than the competition. (Sorry Dolphins and Broncos, but you lost by more than 3 touchdowns.) Brady, in contrast, has never played in a Super Bowl where he could pad his stats in an uncompetitive contest.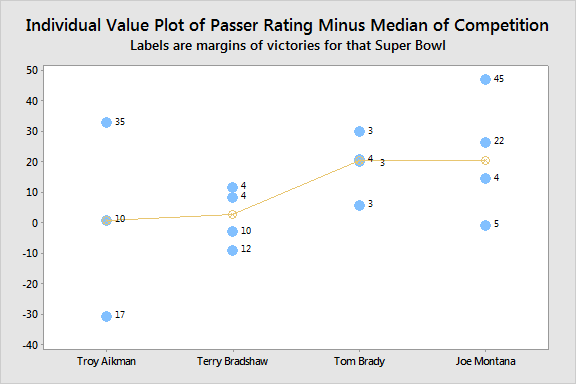 Wrap Up
Without the number of victories requirement, the field for consideration would get much wider. Roger Staubach, Phil Simms, Doug Williams, and Jim Plunkett are easy names to come up with when you think of extraordinary performances by quarterbacks in Super Bowl victories. You might even consider Russell Wilson who, despite having 1 win and 1 loss, has two performances with higher passer ratings than Tom Brady's highest passer rating ever. But I think Wilson's case might be far from stated. For now, with 4 victories, 3 Super Bowl MVP awards, a median passer rating that exceeds his most direct competition by over 20 points, and no victories over clearly inferior competition, Tom Brady is the best Super Bowl quarterback ever.
Bonus
There's lots of color editing in the graphs above. Want to see more about what you can do with graphs in Minitab Statistical Software? Check out Chapter 2 of the Getting Started Guide!
The photo of Tom Brady is by Keith Allison and is licensed under this Creative Commons License.