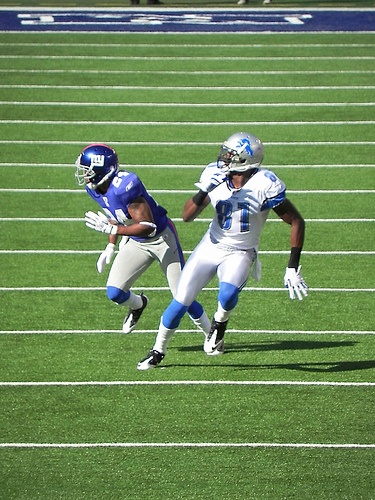 Last week I used Minitab's paired t test to compare how quarterbacks and running backs performed the season after finishing in the top 3 in fantasy points. Quarterbacks did not perform significantly worse, while running backs scored about 80 fewer points and finished ranked 8.7 spots lower than their top 3 year. Now it's time to move on to wide receivers and tight ends. Will they follow suit and perform the same, like quarterbacks? Or will their top 3 season turn out to be just an outlier that they're unlikely to repeat, like running backs?
Wide Receivers
Much like running backs, it's hard for wide receivers to finish in the top 3 of fantasy football scoring consistently. Here is a list of the top 3 fantasy receivers each year since 2006.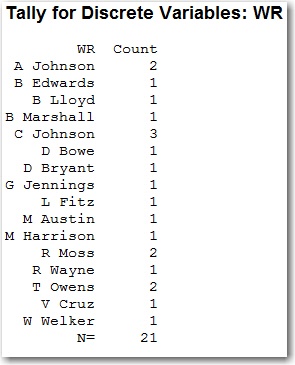 Only Calvin Johnson has been able to finish in the top 3 more than twice since 2006. So again, we would expect there to be a dip in their scores the following year.

On average, a wide receivers score drop by about 50 points the year after they finish in the top 3. At first you might not think this is as bad as what we saw with running backs. But remember that top running backs usually score more points than receivers, so, relative to other players at their position, a drop of 50 points by a receiver may be more damaging than a drop of 80 points by a running back. We can compare the rankings of wide receivers to see if this is true.

On average, wide receivers fell by over 17 spots a year after finishing in the top 3. This is twice as much as running backs! If you're picking a wide receiver early based on his numbers from last year, beware!
In 2012 the top 3 receivers were Calvin Johnson, Brandon Marshall, and Dez Bryant. Calvin Johnson might be the only wide receiver you should feel comfortable drafting early, because he's the only receiver that's shown he can consistently finish in the top 3. He's unlikely to have 1,964 yards again this year, but he's also unlikely to be tackled inside the opponent's 5 yard line eight times.
As for Marshall and Bryant, this data analysis would suggest they're going to see a drop in their numbers from last year. You should avoid taking them too early. Their average draft positions on ESPN are currently 17.8 and 21.3. That's a late 2nd round/early 3rd round pick that could be spent on a much more reliable quarterback (Tom Brady is going around 23), to get some running back depth, or even grab the first tight end off the board! And speaking of tight ends...
Tight Ends
The best tight ends really surprised me with how consistent they were. Just look at how many players are able to repeat as top 3 players since 2006: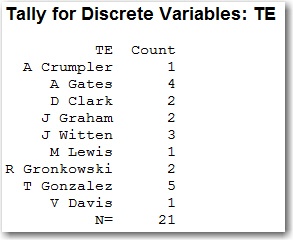 Tony Gonzalez has five top 3 finishes in the last 7 years. Did you know that? I didn't have a clue! And 67% of the players on this list have been able to repeat as a top 3 tight end. Let's see if this translates to a low difference between seasons.

We see that tight ends usually score about 28 fewer points the season after finishing in the top 3. That's the lowest of any position. But just like receivers, I wanted to see how this drop affected their rankings. It turns out, not much. On average, a tight end only drops 5 places from one year to the next. And of the 18 players I looked at, only 3 dropped lower than 9th the year after finishing in the top 3 (compared to 11 for wide receivers). Point being that you can be pretty confident that elite tight ends will stay that way the next season.
Last season the top 3 tight ends were Rob Gronkowski, Tony Gonzalez, and Jimmy Graham. Now, there are some concerns with the first two (injury for Gronk and age for Gonzalez). But those concerns have dropped their draft position considerably (about the 5th and 6th rounds). If you get either player that late and they are able to come close to repeating their performance from last season, you're getting an absolute steal. Considering how consistent top tight ends are from year to year, it very well may be worth the risk.
As for Graham, these numbers show there isn't any reason why he can't finish in the top 3 in tight end scoring for the 3rd year in a row. If you want to grab a top tight end without having to worry about taking any risks on their health or age, you want to make sure you get Graham.
How can all this help me win my fantasy league?
This shows that fantasy football players can be inconsistent from year to year. And the worst thing you can do in your fantasy football league is use your high draft picks on players that don't live up to expectations. So to minimize risk, you want to avoid players who have the greatest chance of underperforming. And we've seen from this data analysis that the position with the greatest chance of underperforming is wide receiver.
So does this mean you should completely avoid drafting any wide receivers early? Actually, no. We've seen that Calvin Johnson is the only wide receiver who's been able to perform consistently at an elite level. Because the rest of the position is so inconsistent, Johnson is a fine player to pick early. But after him, your guess is as good as mine as to who the top receivers will be. Because of that, you should focus on running backs, quarterbacks, and Jimmy Graham, with your first 3 picks.
Photo by Matthew Britt. Licensed under Creative Commons Attribution ShareAlike 2.0.