Five weeks into the NFL season, I used Minitab's regression analysis to predict player performance for the rest of the year. But when you make predictions, it's always good to go back after the fact and see how well you did. In my previous post I used a fitted line plot to compare my predictions and the players' final averages. Now I'm only going to look at the top 10 players at each position to see how many my model correctly predicted.

NOTE: The regression model predicted the top players based on points per game, not overall points. Because of this, the final rankings are also based on points per game. Games from week 17 were not included, as most fantasy leagues are over by then, since many teams have nothing to play for.

Also, there were 23 players who had played in fewer than 5 games at the time of the study. The predictive model is based on players who played 5 games. So I went back to those players and took their average from the first 5 games they played and updated the predictions.
Quarterbacks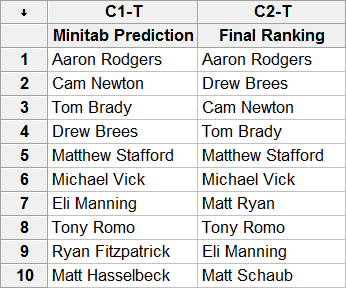 Minitab correctly predicted 8 of the top 10 quarterbacks, including rookie sensation Cam Newton. The model also correctly predicted that Eli Manning would have a great fantasy season. And Minitab even projected Matt Schaub as the 11th best QB, so his prediction wasn't far off.
But it wasn't perfect. Ryan Fitzpatrick, Matt Hasselbeck, and Matt Ryan didn't finish anywhere near their predictions. Fitzpatrick and Hasselbeck couldn't keep up their hot start, as both fell outside the top 15. And Ryan rose from the 20th best QB all the way to 7th. This is some of the random variation that is hard to account for.

Running Backs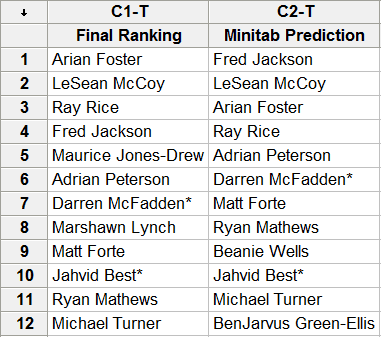 For the second straight year, Arian Foster led all running backs in fantasy point per game. After week 5, Minitab projected him at number 11. But Foster had played in only 3 games at the time. After adding his number from his next 2 games, we got a much more accurate prediction of where he would finish.
By now you've probably noticed I listed the top 12 running backs, not the top 10. That's because both Darren McFadden and Jahvid Best had season-ending injuries soon after week 5. It's hard to be confident how they would have finished had they played the entire season. So I've ignored them and include #11 and #12 in my rankings instead.
The biggest misses were Maurice Jones-Drew and Marshawn Lynch. Jones-Drew simply performed much better in the second part of the season. As for Lynch, it appears that a change in Seattle's offensive philosophy might have lead to the improvement. In his first 5 games, Lynch averaged only 11.6 carries per game. But in his next 10 games, that number almost doubled to 22.7. It looks like Seattle became much more dedicated to running the ball.
But those were the only two running backs the model missed. Overall, it correctly predicted 8 of the 10 running backs. Not too shabby.

Wide Receivers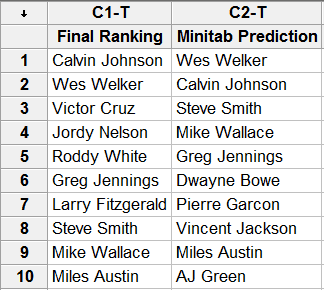 The wide receiver predictions did not go as well: the regression model correctly predicted only 6 out of 10. Our top 2 are solid; as we said back in week 5, Calvin Johnson and Wes Welker were a cut above the rest. They stayed that way the entire season.
Things get dicey after that. We didn't see Victor Cruz finishing in the top 3—but then again, who did? However, we did have him ranked #13, and told you to pick him up immediately if you could. So Cruz wasn't a total miss.
The next two guys were total misses, though. We had Jordy Nelson and Roddy White ranked 20th and 21st respectively. We saw earlier that Matt Ryan played much better than his early season numbers indicated. This improved play also affected White's numbers. Hopefully you didn't take my advice to trade White "while you still could."
Dwayne Bowe had the biggest fall from grace, dropping from 6th all the way to 23rd. However, there is an explanation. Bowe had a great start to the season with Matt Cassel as his quarterback. However, Cassel had a season-ending injury halfway through the season. Bowe spent the rest of the year receiving passes from Tyler Palko and Kyle Orton. With Cassel, Bowe had three 100-yard games and four touchdowns. With Palko and Orton he had zero 100-yard games and one touchdown. Unfortunately, the regression model doesn't account for injuries.

Tight Ends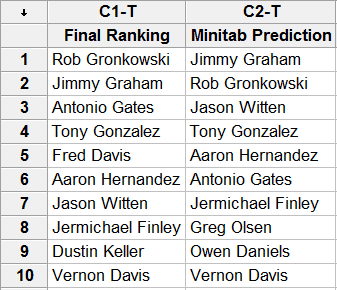 And last but not least, the tight ends! It was a huge fantasy year for tight ends, as Rob Gronkowski and Jimmy Graham scored just as many points as the top wide receivers! And sure enough, Minitab predicted them to be the top 2 guys early in the season. Okay, so we messed up the order...but I'd say it was close enough.
Going down the rest of the list, Minitab correctly predicted 8 of the top 10 tight ends. And the two players we missed (Fred Davis and Dustin Keller) were projected to be 11th and 13th. We didn't have them in the top 10, but they were close!

Summary
Of the 40 players who made up the top 10 at each position, Minitab's regression model was able to correctly predict 30 of them. That's 75%, up slightly from the 70% it correctly predicted last year. With inconsistencies due to random variation and injuries, you're never going to be perfect when it comes to predicting fantasy football. But we've shown that with a little bit of data analysis, you can definitely give yourself an edge.
For example, I had both Gronkowski and Finley on my fantasy team early in the season. I was even starting Finley over Gronk early on! But once I saw the projections, Gronkowski became my #1 tight end. I traded Finley after Gronkowski's bye week, knowing that I wasn't going to play him again. I got Benjarvus Green-Ellis and Nate Washington in the trade. Although Green-Ellis fell off at the end of the season, Washington averaged 12.7 points in his last 3 games, a time when I was hurting at wide receiver. His points helped my team win the fantasy championship. And that is how you can use Minitab to win your fantasy football league!