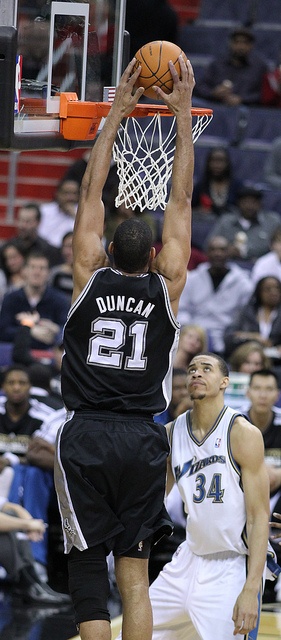 The NBA playoffs are under way, and all eyes are on LeBron James to see if he can finally bring a championship to Cleveland. But one could argue that there is even a bigger storyline going on: whether Tim Duncan can equal Michael Jordan's six NBA Championships.
Duncan is currently in his 18th season in the NBA, and he is still playing at a very high level. Yet, he's never in the conversation when it comes to the greatest players of all time.
But should he be?
Two years ago I did a post using Minitab Statistical Software to compare LeBron James and Michael Jordan. But with Duncan now looking for his sixth championship, I thought I would stir the pot and throw his name into the hat. Let's see how Duncan's statistics stack up to two of the greatest players of all time. You can get the data I used here.
Round 1: How Far Do You Lead Your Team?
Let's start by seeing how far each player went in the playoffs. I'm including Jordan's two seasons at the end of his career with the Wizards here. After all, he was about the same age on those teams as Duncan is now!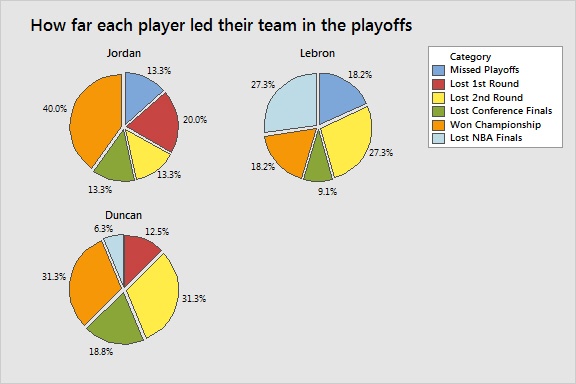 Even including his two seasons with the Wizards, 40% of Jordan's seasons ended with him winning a championship. Tim Duncan isn't too far behind him at 31%. LeBron is a distant 3rd, but unlike Duncan and Jordan, he still has a few more years in his prime to change that.
The most impressive thing this shows is that in his 18 seasons, Tim Duncan has never once missed the playoffs. LeBron missed them in his first two seasons in the league, and Jordan did so in his last two. But Duncan never has, and on top of that he's only lost in the first round twice (I'm not counting the 2000 NBA Playoffs, where the Spurs lost in the first round but Duncan didn't play in any of the games due to an injury.) That's quite impressive!
Even if Duncan wins his 6th championship this year, Jordan will still have won his in fewer seasons. So although he's close, Duncan doesn't quite stack up to Michael. And if LeBron is going to challenge either player here, he better win a few more titles.
Of course titles are won by a team, not an individual person. So how will Duncan stack up to LeBron and Jordan when we start looking at some individual statistics?
Round 2: Who Is the Better Scorer in the Playoffs?
You can't win unless you score more points than the other team, so let's look at the scoring averages for each player. I'm only looking at playoff games, since that is where legacies are made. I also used points per 36 minutes so that overtime games don't cloud the results.
Here is a time series plot of how each player performed in the playoffs as their careers progressed: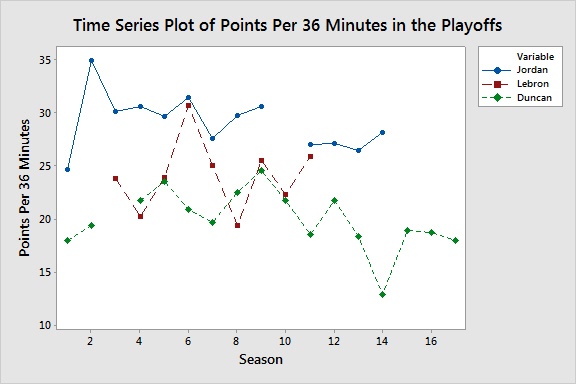 Jordan clearly looks like the best player here. His lowest points-per-36 average (his rookie year) is higher than Duncan's highest average (the 2006 NBA Playoffs when the Spurs beat the Cavs for the championship). And LeBron has never been able to top Jordan when they were at similar points in their career.
Another interesting thing to note is that after his first two seasons, Jordan pretty consistently scored close to 30 points per 36 minutes in the playoffs. Meanwhile, LeBron and Duncan have a much higher variability. And even Duncan's better scoring years rarely top LeBron and never top Jordan. It looks like Duncan just isn't as good a scorer as the other two players.
Round 3: How Efficient Are You?
But how many points you score doesn't always tell the entire story. If you score 37 points but it takes you 50 shots to do so, then it really isn't all that impressive. You didn't have a great game, you just shot the ball a lot. Plus only looking at scoring doesn't account for rebounds, assists, steals, turnovers, etc.
So I'm going to use a stat called the Player Efficiency Rating (PER). It's a measure of per-minute production standardized so that the league average is 15. It accounts for both how efficiently a player scores, and how they do in the "non-scoring" aspects of the game. It isn't perfect, but it's the best statistic we have to determine who the best all-around player is.
So let's see who is better! Again, I'm only using playoff games.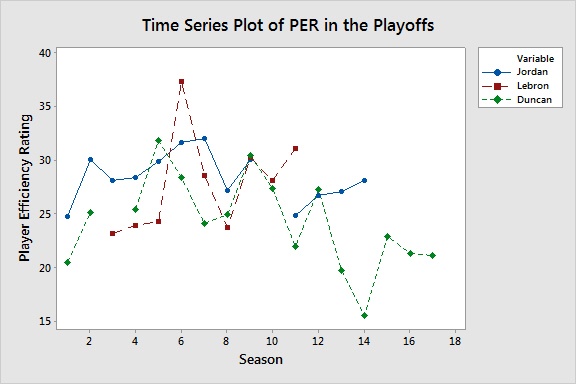 Jordan doesn't look as dominant as he did in the previous plot, but he still looks like the winner. Michael's least efficient playoff performance still beats 4 of LeBron's seasons and 8 of Duncan's. And check out Duncan's PER in his 14th season (2011, when the Spurs lost to the Thunder in the Western Conference Finals). His value of 15.5 is barely better than the league average of 15. Neither Jordan nor LeBron have a value anywhere close to 15. And the fact that the Spurs reached the Conference Finals that year shows that his teammates were good enough to win games even if Duncan wasn't playing well. How many teams could you say that about for LeBron or Jordan?
I do want to point out the ridiculous playoff performance by LeBron James in his 6th season. It was the 2009 playoffs, when he led Cleveland to the Eastern Conference Finals only to be upset by the Orlando Magic. In those playoffs, James had three 40-point games and never scored fewer than 25 points. And he did it all while shooting over 50%. Plus, in an elimination game against Orlando he had a triple double and staved off elimination for the Cavs (at least for one game). But after a playoff performance that far exceeded anything Jordan did, LeBron started to get stuck with the "unclutch" label. Sports media, everybody!
Getting back to Duncan, it looks as if his best playoff performances are behind him, as his PER has decreased the last couple of seasons. But he did hold his own pretty well in the prime of his career, and his best playoff performance (PER of 31.8 in 2002) is almost as good as Jordan's best playoff performance (PER of 32 in 1991). But "almost as good as Jordan" isn't nearly the same as being better than Jordan.
Round 4: What about the Regular Season?
So far we've only looked at what each player has done in the post-season. But it would be mistake to completely ignore the huge sample of games in the regular season, so let's look at each player's PER in the regular season.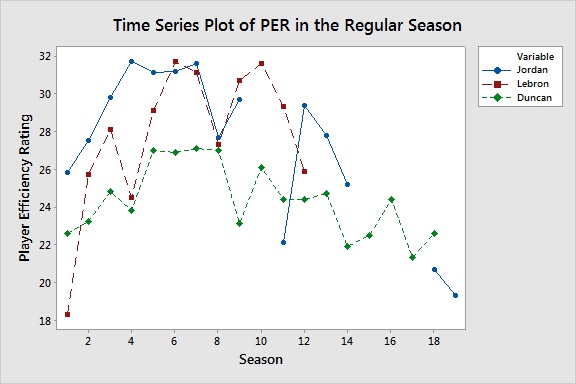 Duncan is clearly in 3rd place here. He was only able to top LeBron's regular season PER in their rookie season. And the only time he beat Jordan was a season Jordan was with the Wizards, and the season Jordan returned from retirement for 17 regular season games after not playing basketball for 2 years.
So is Tim Duncan a great NBA player? Absolutely. Is he the greatest NBA player? No, not quite. While he has had great success at the team level (more than LeBron and almost as much as Jordan) his individual statistics aren't quite consistently on the same level as Jordan or LeBron.
But you should take that more as a compliment to Jordan and LeBron than an insult to Duncan, who's still been a very great player on some great teams. And if the Spurs end up beat LeBron and the Cavs in the Finals this year, he'll end up getting the last laugh.
Photograph "Tim Duncan" by Keith Allison. Licensed under Creative Commons Attribution ShareAlike 2.0.