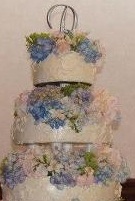 Oh, the joys of planning a wedding! Between all the information to keep track of, the meetings with a variety of people, and all the tasks to complete, it's almost like running a Six Sigma Project. In fact, my fellow blogger Carly Barry gave an example of a quality improvement tool that she used to plan her wedding last year. And since I just had my wedding last month, I thought I would share how I was able to use Minitab to make my wedding planning easier! If you want to follow along, you can get the worksheet I used here.
The Meal Choice Head Count
If you're doing a buffet, you don't have to worry about this. But if you are letting your guests choose a meal, putting their choice into Minitab can give you an easy way to summarize it for the caterer. Whenever I got a person's response, I simply put their name in one column, and their meal choice in the other. Then when it was time to give my final counts, I used Tables > Tally to easily summarize the meal choices.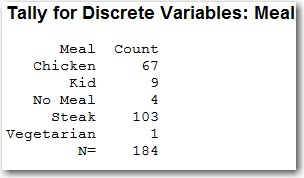 The Seating Chart: Using "Group" Data
Ah, the dreaded seating chart... I've heard from multiple people that this was the most frustrating part of their wedding planning. But with the help of Minitab, mine wasn't bad at all!
Now, Minitab didn't actually make the chart for me, but it helped break my guests into smaller, more manageable groups.
In the same Minitab worksheet I used for the meal choice, I made a third column that had the "group" the person was associated with. For example, if they were one of my college friends, I put "Groom College." For family friends, I simply put "Groom Friend." I did this as I received each response card, so I didn't have to go through all 184 guests at once. Then I used tally again to see how everything broke down.
My side of the family was so big I needed to break it down further than just Groom Family (Canonica, Corman, New York, and Rudy). We could seat between 8-10 people at a table. So without even looking at any names, I could already see multiple tables that would work out just fine (Bride's College, Bride Family, the Corman family, the New Yorkers). But Minitab couldn't do all the work for me. I still had to figure out how to break down some of the bigger groups (like the Rudy side of the family).
Splitting the Worksheet
My worksheet still had 184 rows, but I just needed a list of everybody in the Rudy group so I could start splitting them up. It was easy to split my worksheet in Minitab; I just used Data > Split Worksheet and entered "Group" in the box for By variables.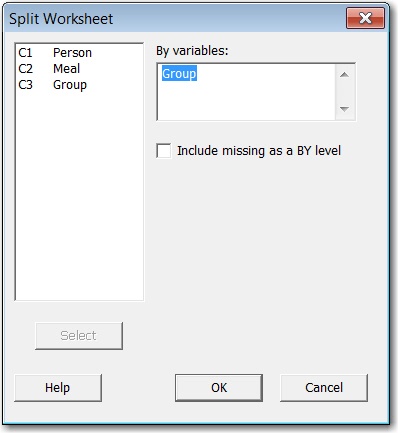 And voila! I now had a worksheet for each group! There was still some work to do to make the final seating chart, but when I seated the Rudy side of the family, it was a lot easier working from a list of 38 people than a list of 184!
In fact, working from these smaller lists, I was able to do the entire seating chart in 15 minutes!
And that's how I used Minitab to make my wedding planning a little easier. I just wish I could have used it to plan the other 9,999 things I had to do, too!