When we think about jobs with a romantic edge to them, most of us probably think of professions that involve action or danger. Spies, soldiers, cops, criminals -- these are types of professions romantic leads have. Along with your occasional musician, reporter, or artist, who don't have the action but at least bring drama.
But you know who never shows up as a romantic lead? Quality improvement professionals, that's who. Can you name just one movie that features a dedicated data analyst or quality practitioner as the love interest...just one? No, you can't. Doesn't exist.
Love of Quality: The Greatest Love of All?
I guess screenwriters think statisticians and people in the quality industry have no love lives at all, but those of us who work in the sector know the passion and romance involved in optimizing a process, and the beauty inherent in a control chart free of special-cause variation.
Since it's Valentine's Day tomorrow, here's a fun little diversion that lets you share your love with a little data. Grab this data set, open it in Minitab Statistical Software, and select Graph > Scatterplot. Click the option for Simple scatterplot, and select "Passion" as your Y variable, and "Devotion" as your X variable.
Then send the resulting scatterplot to your sweetie: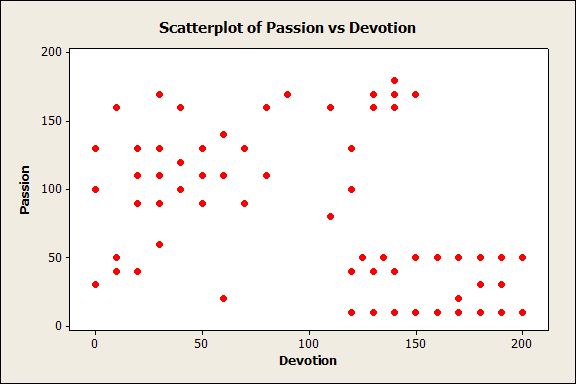 You can probably expect to receive an e-mail or phone call from the recipient, asking you just what this data is supposed to mean.
Explain that you thought the pattern in the data was clear, but you'll send them a revised graph that draws the connections. Then send 'em a second graph of the data, which you've adjusted with Minitab's graph editing tools to connect the dots strategically: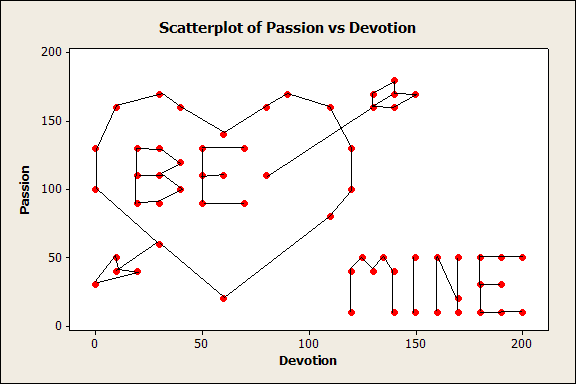 If you're already a Minitab user, you probably know that these graphs are very easy to customize, so you can tailor the graph just the way you -- or your beloved -- like it. For instance, if you know she's crazy about script fonts and the color pink, something like this might work: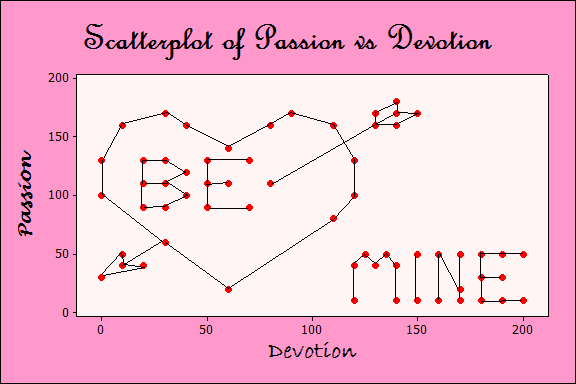 Of course, you would do well to celebrate your love in other ways, too...flowers or dinner, for instance.
A few years ago my colleague Carly came up with this scatterplot. The data for this heart is included in the data set linked above, if you prefer this more streamlined approach: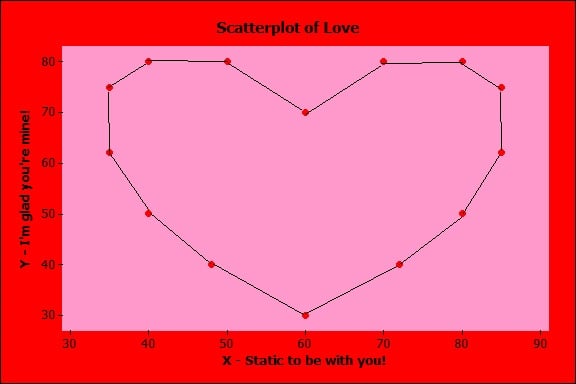 And she even threw in a time-series plot of her heartbeat -- now that's romantic!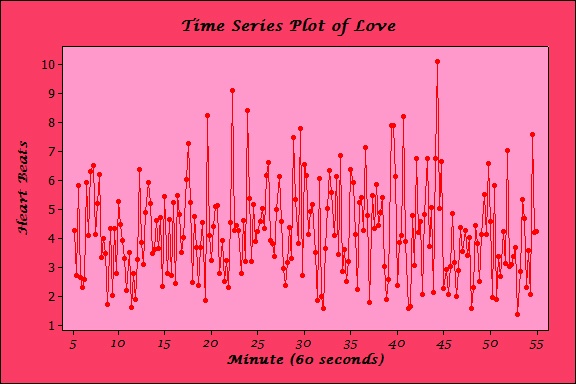 If you've never edited Minitab graphs before, it's easy. To change the colors and fonts of your graphs, just double-click the graph attributes you'd like to edit. Clicking Custom on the various tabs lets you customize fill patterns and colors, borders and fill line colors, etc.
You can also change the default color and font styles Minitab uses in the Tools menu:
1. Select Tools > Options. Click Graphics and the + sign to see more options: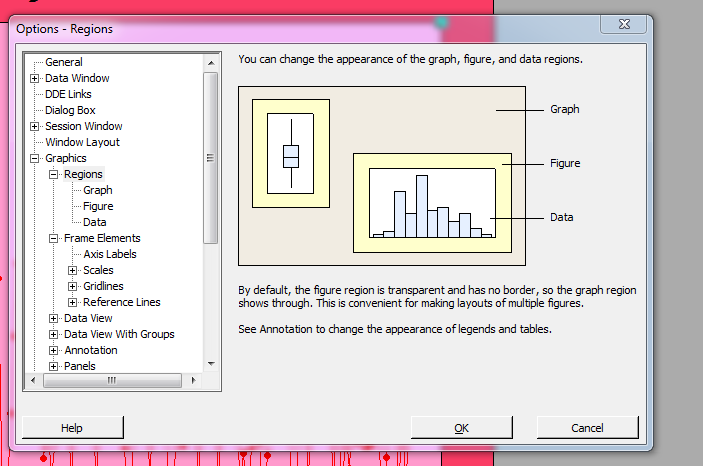 2. Click Regions, then choose the graph elements to customize.
3. Change the font used in your graph labels using Frame Elements (also under Graphics).
Happy Valentine's Day!