This week I'm at the American Society for Quality's World Conference on Quality and Improvement in Nashville, TN. The ASQ conference is a great opportunity to see how quality professionals are tackling problems in every industry, from beverage distribution to banking services.
Given my statistical bent, I like to see how companies apply tools like ANOVA, regression, and especially designed experiments—particularly if they happen to be using the statistical software I like best.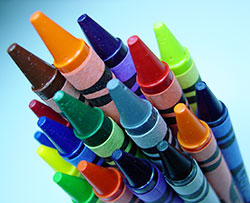 One of the most popular sessions involved a company whose products are instantly recognizable to almost everyone who's ever had (or been) a child: Crayola.
There's something about using crayons that brings out the imaginative kid in all of us, and as this session started I saw lots of smiles and even overheard some wistful recollections about "new crayon smell" from the row behind me.
I also heard comments about the quality of Crayola's crayons compared to other brands, and I flashed back to my own childhood experiences: other crayons' tips weren't as strong, and if you pressed really hard they were much more prone to snapping in two. But Crayolas were always the best—if you wanted to break a Crayola, you needed to work at it!
The conference room was packed with people who'd had similar experiences. We'd seen the results of Crayola's efforts to make the highest-quality crayons available, and now we wanted to learn more about how they did it. We weren't disappointed.
Improving Inventory with DOE and Simulation
Speaking for Crayola were Bonnie Hall, the company's vice president for global quality and continuous improvement, and Rich Titus, a Lean Six Sigma Master Black Belt who has consulted with Crayola for several years.
They talked about the history of Crayola, and the fact that they've been making crayons for more than 100 years from their headquarters and facilities in Bethlehem, Pennsylvania. They also shared a brief history of the company's Lean and Six Sigma initiatives, which kicked off in 2001 and have yielded great benefits.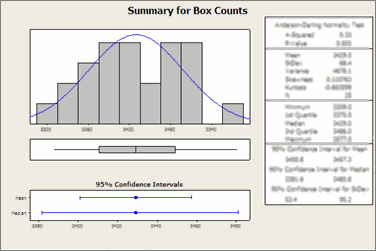 Then they walked participants through several examples of how Crayola has used data analysis and statistics to reduce waste, cut costs, and most important, maximize the quality of the crayons, markers, modeling materials and other art supplies they make.
They talked about how Crayola followed a systematic process to improve the accuracy of its inventory system, following the DMAIC roadmap and applying tools like graphical analysis, ANOVA, Design of Experiments, and capability analysis.
It's pretty cool to see and hear how statistics helps Crayola make sure they're delivering items that kids can count on, and it's really gratifying to know they trust Minitab's software to make the data analysis as easy and straightforward as possible.
What Makes Crayola's Quality Program So Successful?
In their presentation today, Bonnie Hall and Rich Titus cited a couple of key attributes that they believe have made Crayola's quality program successful.
Minitab and Data Driven Problem Solving now the Norm at Crayola
Lean and Six Sigma now part of Crayola Culture
Senior-level managers are fully trained green and black belts, and do their own projects
Executives and managers conduct regular project reviews for current projects
Crayola's quality improvement efforts have been a tremendous success, and the companies leaders were gracious enough to spend time with me and some other Minitab folks earlier this year to tell us more about about how data analysis has helped them compete and improve.
You can visit our web site to learn more about how Crayola is using statistics and data to maintain and enhance the quality of their products.