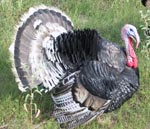 Today is the annual Thanksgiving holiday in the United States, so it's a good opportunity to share some stories about successful projects that I've been thankful to learn and write about over the past few years.
I joined Minitab after spending many years as both a freelance and in-house science writer for various organizations and institutions. When I began working at Minitab, I wondered whether I'd still be learning and writing about such interesting and diverse projects. I needn't have worried.
Minitab software has been used in countless projects in locations around the globe, so the range of stories I've had the privilege to learn about has expanded tremendously.
I hope you check them out and enjoy learning about them as much as I did.
Success with Design of Experiments (DOE)
Launching a Flawless Fiesta: When a cosmetic problem with the vehicle's carpet threatened the impending launch of the 2011 Fiesta, Ford used Minitab's DOE tools to help them eliminate the carpet defect and achieve a successful launch.
Success with Hypothesis Tests
Striking Gold at Newcrest Mining Ltd.: Newcrest Mining Limited is Australia's largest gold producer. Newcrest's Cadia Hill mine produces about 300,000 ounces of gold annually, but its low-grade ore required costly bulk mining and treatment techniques. Newcrest applied Six Sigma and Minitab® Statistical Software to keep the Cadia Hill facility running as efficiently as possible, and to safeguard their prominent role in the gold industry.
Success with Control Charts
Committed to Kids and Quality at Akron Children's Hospital: Akron Children's Hospital is a leader in applying Lean Six Sigma to health care. Hospital project leaders frequently use Minitab to make control charts that make it easy to distinguish normal process variation from variation caused by something unusual. For example, patient wait times that exceed expectations may be due to factors that are not part of the normal process, and can be corrected. After corrections have been made, Minitab's control charts help ensure the improvements remain effective and the process remains stable.
Success with Regression Analysis
On the Ball: The U.S. Bowling Congress: While assessing a contested regulation, the U.S. Bowling Congress discovered a previously unknown stage in a ball's travel down the lane. Often the fourth phase of ball motion could only be determined by examining residuals from a Minitab regression analysis of their data. Minitab graphs like the residuals vs. fits plot made it easy to detect quadratic patterns in the data that revealed this previously unknown phase.
If Minitab products have helped you achieve success in whatever field you're in, we'd love to hear about it!