I'm in the airport at Indianapolis, waiting to go home after three exciting days at the 2013 American Society for Quality World Conference. As I write this, it's Wednesday evening after the conference has closed, and it turns out my flight has been delayed.
This could give me ample opportunity to muse about the quality issues that might keep me from reaching central Pennsylvania tonight. But I'm kind of pumped up, so I'm more interested in thinking about what I've experienced and seen over the past few days. This is the kind of event that makes you want to keep focusing on the positive, not fretting about things outside of your control!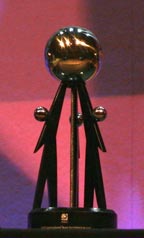 As I mentioned on Tuesday, Minitab has a presence at the ASQ World Conference (and many other quality-related events throughout the year) because we are dedicated to helping quality improvement practitioners. That's why we don't just attend the show as exhibitors, but our own quality improvement specialists frequently present at the event. But we are involved in many other ways.
This year, for the first time, Minitab was proud to sponsor the International Team Excellence Awards process.
If you're a quality practitioner and you're not already aware of the ITEA, I encourage you to check it out....the annual ASQ International Team Excellence Award Process (ITEA) celebrates the accomplishments of quality improvement teams from a broad spectrum of industries from around the world. The 2012-2013 teams don't have all of their information available on the ASQ web site yet, but you can see how the 2011-2012 team finalists saved millions of dollars for their companies and showcased exceptional projects and processes.
The teams who presented at this year's event were impressive. I made it a point to attend as many of the ITEA finalist presentations as I could fit in, and was amazed by the diversity of challenges they faced and the variety of approaches they took to find solutions to their challenges. And while not every project involved extensive data analysis (though many did), it was great to see the diversity of approaches that can be applied to improve a process, product or service through the analysis of data.
It's also gratifying to see how many of those organizations have turned to Minitab to make data analysis easier. Nearly all of the presentations I attended included Pareto charts, control charts, or designed experiments that were created with Minitab Statistical Software. Improving quality is a big, challenging task, and we strive to make the data analysis component of quality improvement as easy as possible, so that people can devote more attention and energy to other tasks in their projects.
In the coming weeks, I'll try to share some insights I gleaned from sitting on presentations made by teams from Baxter Healthcare, Nokia HERE Mapping, Coca Cola, and many others whose projects made a huge difference at their companies. In the meantime, though, I'll just offer one insight I gleaned from watching them. As different as all of these teams were, as varied as their challenges were, and as wide-ranging as their degrees of success may have been, all of the teams displayed two consistent traits: enthusiasm, and optimism.
As part of the presentation process, these teams discuss how they identify and select the projects they work on, and some of the challenges these teams faced were truly daunting. But these teams took on the challenges and made change, beneficial change, happen. They didn't say "That's the way things are." They didn't say "There's nothing we can do about that." They didn't say "That's not my department." They didn't say anything about what couldn't be done; instead, they all looked at their problems and focused on what could be done, and then did the best they could to do it. And in most cases, they met or exceeded the goals they set for themselves.
That's pretty inspirational, and I feel incredibly fortunate to work for a company that so many of these teams look to for tools that will make a big part of their quality improvement task easier.