The Minitab Fan section of the Minitab blog is your chance to share with our readers! We always love to hear how you are using Minitab products for quality improvement projects, Lean Six Sigma initiatives, research and data analysis, and more. If our software has helped you, please share your Minitab story, too!
Once my Mom was diagnosed with Diabetes Type II, I began to track her blood sugar readings in Minitab Statistical Software.
I did it three times a day before meals...over weeks, then months, then years. At each doctor's appointment I would take in her 'book' of readings, and I would take my charts, too.
The individual value plot chart was very telling. Her blood sugars increased with each meal during the day. The doctor changed her insulin based on the undeniable visual trends.
Then the biggest surprise came. In June 2013, over a year after blood sugar tracking began, she decided to get back surgery to alleviate leg pain. The day after her back surgery, still in the hospital, her blood sugar dropped approx. 75 points. After a few months of this obvious transition and new trend, the doctor removed her from her diabetes medicine and insulin.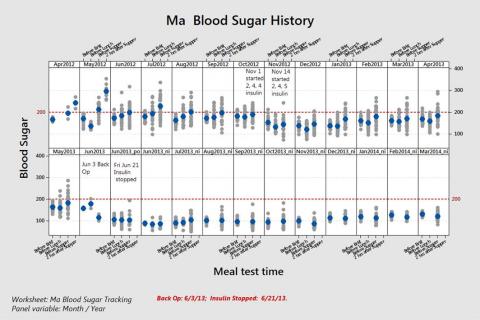 Minitab charts help guide my Mom's health, even in her 80's. She is 86 today, and is still off insulin and diabetes medicine. And many Minitab Statistical Software charts are a part of my Mom's health history, kept in her doctor's office records.
Paul Kelly
Black Belt
Air Products
Trexlertown, Pa.