The Minitab Fan section of the Minitab blog is your chance to share with our readers! We always love to hear how you are using Minitab products for quality improvement projects, Lean Six Sigma initiatives, research and data analysis, and more. If our software has helped you, please share your Minitab story, too!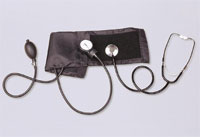 Some years ago, my wife had a real issue with her blood pressure spiking for no apparent reason. The "high side" was up to 200/110 with the low side beyond 80. We were extremely concerned.
Her doctor tried several new medications and none worked—at all. Finally, we structured a program in which she took her pressure four times per day for approximately one month.
I decided at that time to use Minitab to organize and present the data to her doctor. I thought it would be a very logical approach to having the doctor review the results. He was blown away. Apparently there is no standard method of interpreting the data when given. Most doctors just take a look, hoping they don't miss any important numbers.
From the charts—i.e., normal data—the doctor was able to determine the proper medication and dosage and the time of day her pressure was most erratic.
Many thanks to Minitab!
Robert Jackson
Owner
Cielo Technologies, LLC
Chattanooga, TN