I spend a majority of my time entrenched in statistics. Using statistics. Studying statistics. Developing and testing statistical software. Statistics guide many of my decisions at work and in life. That's the world of an engineer.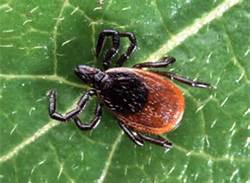 For this reason, you can imagine my surprise when my husband called me at work on a bright, sunny June day in 2009 to tell me that our 4-year-old daughter had been diagnosed with Lyme disease. That, to me, seemed completely improbable. We live in a development in suburbia. Our children don't play deep in the woods. We don't hike in the woods. In accordance with the tick warnings that year, we were vigilant in our nightly tick checks. How could she have contracted Lyme disease? Where did she contract Lyme disease?
After her treatments began, I received a call from the Pennsylvania Department of Health gathering statistics related to the case. Emilia wasn't the only 4-year-old diagnosed that summer, and nightly tick checks weren't necessarily going to find the nymphs (Stage 2 of the Tick life cycle) prevalent at the beginning of the season. We found that the fever Emilia had a few weeks earlier was probably the first symptom. We had assumed that was a virus. The sluggishness that followed, we assumed, was the exhaustion from the very busy schedule of a 4-year-old. Dance recitals, flower girl duty, play dates...it sure exhausted me. But it was the rash that eventually appeared which caused my husband to take her to the doctor. A rash that was not the standard bullseye and one that I suggested we wait out.
Fortunately, my husband never listens to me and I'm glad for that. It may have been the last symptom before more serious complications occurred.
I should note that I'm not a doctor and would not claim to be an expert in Lyme disease. I'm simply a mom who carries with me the guilt of missing a tick bite and the initial symptoms of the disease.
Fueled with guilt, I decided to do some research. What was the probability that one of my children would have contracted Lyme disease? The CDC has extensive statistics available on Lyme disease cases nationwide:
http://www.cdc.gov/lyme/stats/index.html
In the Time Series plot below, you can see that the incidence rate nationwide spiked in 2009 but is still fairly low. A closer look, however, at the Pennsylvania statistics provides a different picture. Pennsylvania has a much larger incidence rate compared to the national average.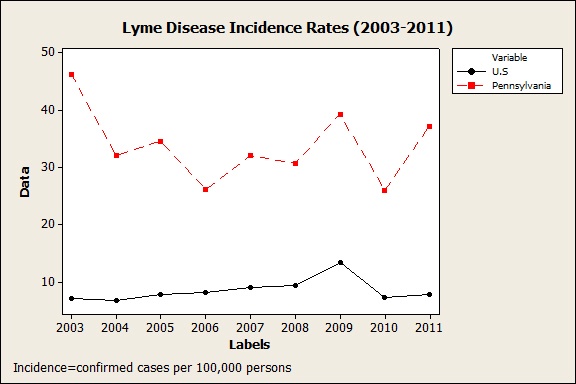 Looking at the Pareto chart below, you can see that Pennsylvania had the largest number of confirmed cases in the U.S. in 2009: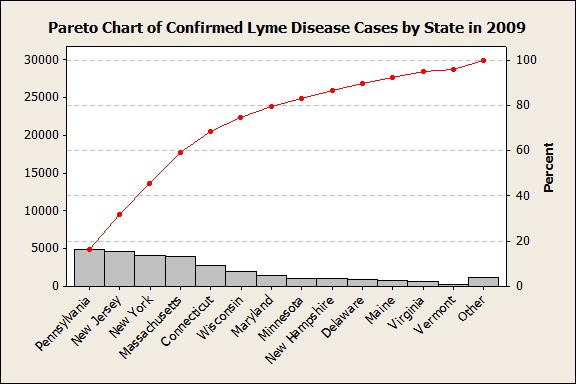 In 2009, there were 4950 confirmed cases of Lyme disease in Pennsylvania. The incidence rate was 39.3 cases per 100,000 residents. While that's one of the largest incidence rates in the country, it may still seem relatively small. Perhaps not what one would call an epidemic.
But, as a mom, those statistics mean nothing. One of those 4,950 cases was my daughter. One out of two of my children was diagnosed with Lyme disease in 2009. Quite frankly, those are the statistics that matter to me.
Today, Emilia is a healthy 8-year old. While she seems to be overly opinionated and sometimes downright bossy, I've been told that isn't a lasting side effect of Lyme disease. Rather, it's a lasting side effect of being raised by me.
There's no cure for that.
As we enter another tick season, please be vigilant of Lyme disease prevention and symptoms. For more information: http://www.cdc.gov/lyme/index.html
NOTE: The doctor who quickly diagnosed Emilia was none other than Maggie's mommy from a previous post. Thanks, Maggie's mommy!
http://blog.minitab.com/blog/adventures-in-software-development/how-to-talk-with-your-kidsabout-quality-improvement