Last time, I shared some useful tools for handling date and time data. But Minitab has many other useful tools for manipulating date/time data that you might not be aware of. Let's take a look at a few more helpful tips and tricks.
Extracting Information from a Date/Time Column
If you look under the Data menu, you'll notice Extract from Date/Time > To Numeric or To Text. This function allows you to take one or multiple components that make up your date/time values and transform it into a new data format.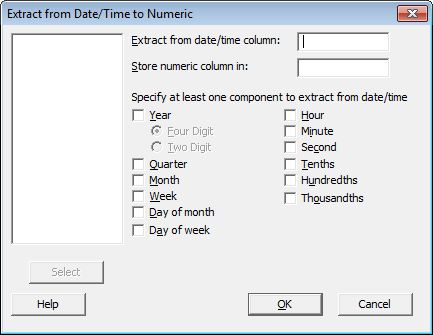 The table below illustrates the conversion that takes place when you select Quarter and Year using both extraction methods, To Numeric and To Text:
| | | |
| --- | --- | --- |
| Original Value | To Numeric | To Text |
| 4/30/2012 | 20122 | Q22012 |
After extracting to a text column, you might want to separate "Q2" and "2012" with a space. This will require that we use the Calculator, located under the Calc Menu. Under the expression box, type:
concatenate((LEFT(c3,2)), " ", (right(c3,4)))
(The expression above assumes that C3 is the column that contains your Text extraction.)
The Calculator, Subset Worksheet and Date/Time Data
I have spoken with customers who became frustrated when trying to subset a worksheet or craft an IF statement using a specific date or time. The best way to tackle this is by using one of Minitab's date/time functions:
Date/Time
Current time
Date
Elapsed Time
Net Workdays
Now
Time
Today
When
Workdays
You can get more information about these functions in Minitab Help.
Let's say you are trying to subset the worksheet below by a specific date. You only want information dated after 5/4/2012.
| | |
| --- | --- |
| Date | Widget Count |
| 4/30/2012 | 4 |
| 5/1/2012 | 5 |
| 5/2/2012 | 3 |
| 5/3/2012 | 5 |
| 5/4/2012 | 2 |
| 5/5/2012 | 5 |
| 5/6/2012 | 6 |
| 5/7/2012 | 7 |
| 5/8/2012 | 4 |
Go to Data > Subset Worksheet, select 'Specify which rows to include' and then click on Condition to the right of 'Rows that Match'. The condition expression will be:
'Date' > date("5/4/2012")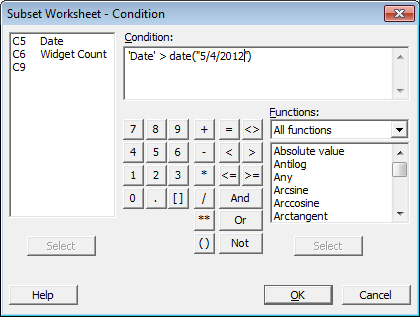 The Date calculator function is typically used to extract the date portion of a value in your worksheet. For example, if you specify date("5/11/08 12:55:35 PM") under the expression of the Calculator, Minitab will output 5/11/08. However, this functionality is also required when trying to subset by a date value. In the expression above, by adding the date function we have informed Minitab that 5/4/2012 is a date value. Without it, Minitab doesn't know whether 5/4/2012 is a text, numeric, or date/time value. You'll also notice that double quotes were used around the value.
The resulting Subset should look something like this:
| | |
| --- | --- |
| Date | Widget Count |
| 5/5/2012 | 5 |
| 5/6/2012 | 6 |
| 5/7/2012 | 7 |
| 5/8/2012 | 4 |

Code
The last tool I want to mention is Code, which can be found in the Data menu. This is a good tool to use when you need to create labels or values based on date ranges. Let's say that the range of 4/30/2012 to 5/4/2012 represents information from Machine A, and 5/5/2012 to 5/8/2012 represents Machine B. We can create a column that lists the two machines by using Code.
Go to Data > Code > Date/Time to Text. Fill in the Dialog Window as shown below: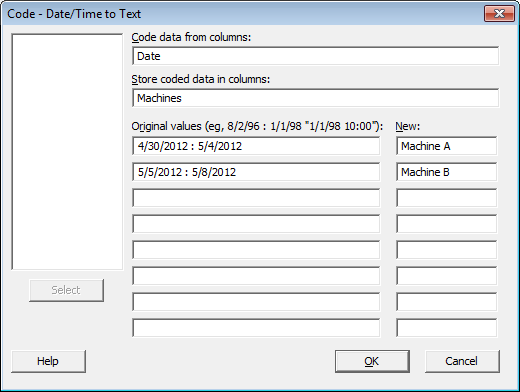 After pressing OK, you should get a new column in your worksheet that lists Machine A or Machine B for each date!
I hope this information helps you to get more value out of your date and time data in Minitab!