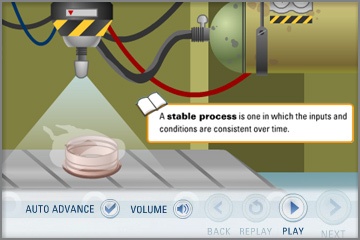 I'm no 6 Sigma Samurai, but I aspire to be one someday. To help me, I enlisted the assistance of Minitab's online statistics training course—Quality Trainer.
When I first came to Minitab a little over a year ago, I had little experience with statistics. While I had taken a few basic statistics courses in college, I definitely knew I needed a refresher course. I turned to Quality Trainer daily for those first few months of my employment and I continue to regularly consult Trainer when I'm writing about statistical concepts and need clarification.
What's neat about Quality Trainer:
- Trainer is integrated with Minitab and will teach you to use the software (Release 14 or higher), but teaching you to use the software isn't Trainer's only purpose. Learning the statistical concepts is key and Trainer provides hands-on exercises that allow you to practice what you're learning by working through real-world scenarios. I'm a person who learns best by doing, and I consider this very helpful!
- Quizzes after each section are offered, and when I don't do well, I know this is a concept I need to review. A record of all scores and quizzes taken is always available via central tracking web site. I've used this feature to track my progress, especially when I have to log off—I know where I left off when I go to login again.
- The table of contents is flexible. If I'm feeling confident that I know my stuff when it comes to hypothesis tests, I can skip over that section and move onto a more difficult subject for me—like process capability or ANOVA.
- The index is searchable, which makes it quick and easy to enter key concepts and click through the relevant sections and activities. The glossary is interactive and offers illustrated definitions for all the statistical terms Trainer covers.
- Since it's web-based, you can login to any computer that has internet and work at your own pace. Low-pressure, leisure learning is best for me!
Statistical Topics covered by Quality Trainer:
- Descriptive Statistics and Graphical Analysis, Statistical Inference, Hypothesis Tests and Confidence Intervals, Control Charts, Process Capability, ANOVA, Correlation and Regression, Measurement Systems Analysis, and DOE
- For more detailed info about what's offered in each topic, click on the Content Outline tab on our Quality Trainer web page.
New Additions
If you're a quality manager wishing to keep tabs on employees who are subscribed to Quality Trainer, there's now the ability to organize your subscribers into different groups so that you easily track their progress. You can also create, manage, and delete groups as needed.
If you're a Quality Trainer subscriber, what do you like best about using the e-learning course?
Other content of interest:
Quality Trainer Case Studies
Tour of Quality Trainer