I am a bit of an Oscar fanatic. Every year after the ceremony, I religiously go online to find out who won the awards and listen to their acceptance speeches. This year, I was so chuffed to learn that Leonardo Di Caprio won his first Oscar for his performance in The Revenant in the 88th Academy Awards—after five nominations in previous ceremonies. As a longtime Di Caprio fan, I still remember going to the cinema when Titanic was released, and returning four more times. Every time, I could not hold back any tears and used up all tissues I'd brought with me!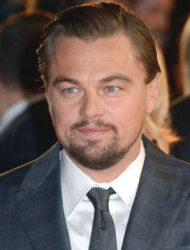 Compared to his Titanic costar Kate Winslet, who won the Best Actress award in 2009 (aged 33), Leonardo waited 7 more years (20 years since his first nomination) before his turn came. I can name several actresses—Gwyneth Paltrow, Hilary Swank, and Jennifer Lawrence come immediately to mind—who obtained the award at younger ages. However, it appears that few young actors have received the Academy Award in recent years. This makes me wonder whether Oscar-winning actors tend to be older than Oscar-winning actresses.
To investigate, I collected data of the dates of past Academy Awards ceremonies and the birthdays of the winning actors and actresses. From these, I calculated the age of the winners on their Oscar-winning night. Below is a screenshot of some of the data.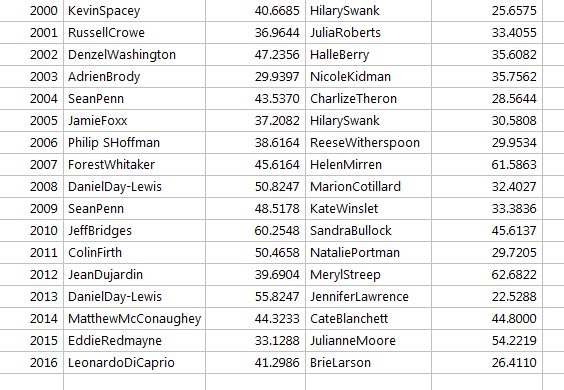 I used Minitab Statistical Software to create a time series plot of the data, shown below.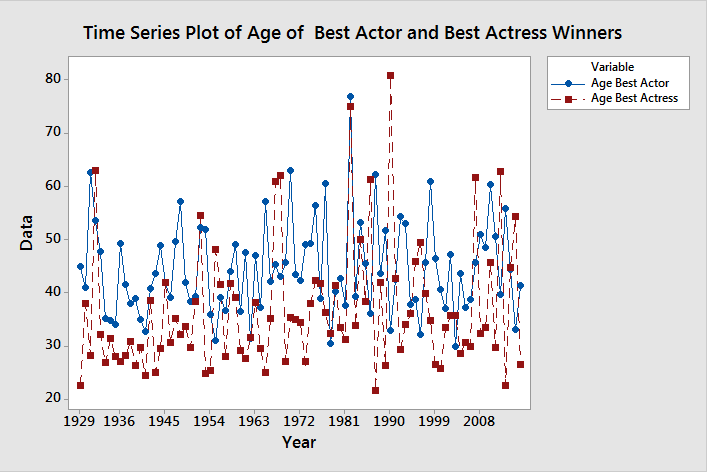 The plot suggests that there is usually a substantial age difference between the Best Actor and Best Actress winners. There are more years when the Best Actor winner is much older than the best actress winner (blue dots above red dots) than years where the winning actress is older. Some examples:
1992: Anthony Hopkins (54.2466), Jodie Foster (29.3616)
1987: Paul Newman (62.1726), Marlee Matlin (21.5973)
1989: Dustin Hoffman (51.6329), Jodie Foster (26.3507)
1990: Daniel Day-Lewis (32.9068), Jessica Tandy (80.8000)
1998: Jack Nicholson (60.9178), Helen Hunt (34.7699)
2011: Colin Firth (50.4658), Natalie Portman (29.7205)
2013: Daniel Day-Lewis (55.8247), Jennifer Lawrence (22.5288)
There are not many occasions when both the Best Actor and Best Actress are in their 30s, 40s, 50s, etc.
Conditional formatting was introduced with the release of Minitab 17.2 and this is what I am going to use to identify any repeats in the data.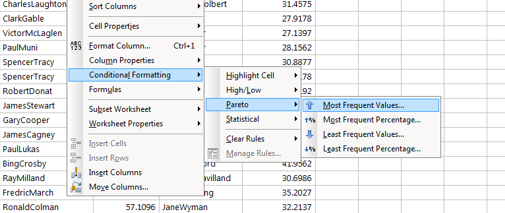 Minitab applies the following conditional formatting to the data set: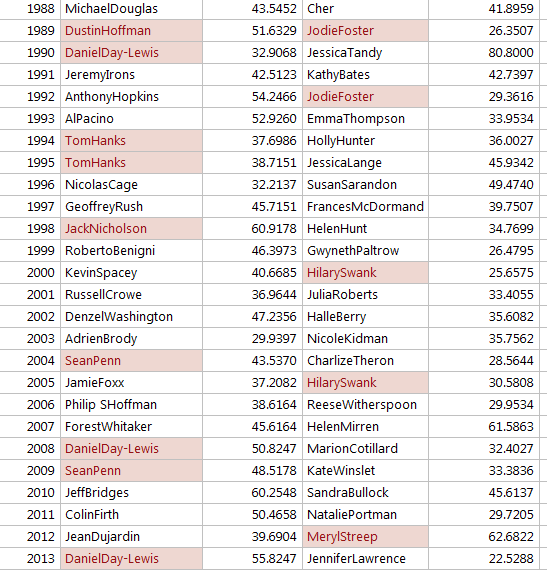 For the Best Actor award, Daniel Day-Lewis received the award on three occasions, while Marlon Brando, Gary Cooper, Tom Hanks, Dustin Hoffman, Fredric March, Jack Nicholson, Sean Penn, and Spencer Tracy each won the award twice.
For the Best Actress category, Katharine Hepburn won four times. Ingrid Bergman, Bette Davis, Olivia de Havilland, Sally Field, Jane Fonda, Jodie Foster, Glenda Jackson, Vivien Leigh, Luise Rainer, Meryl Streep, Hilary Swank, and Elizabeth Taylor each received the award twice.
Winners below the age of 30 could be regarded as obtaining the award at an early stage of their careers. Using the conditional formatting again, I can quickly identify the actors and actress in the data who are in this group.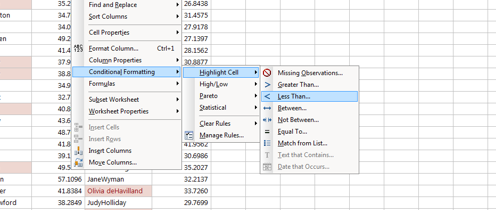 As shown below, a lot more actresses than actors obtain the award before the age of 30.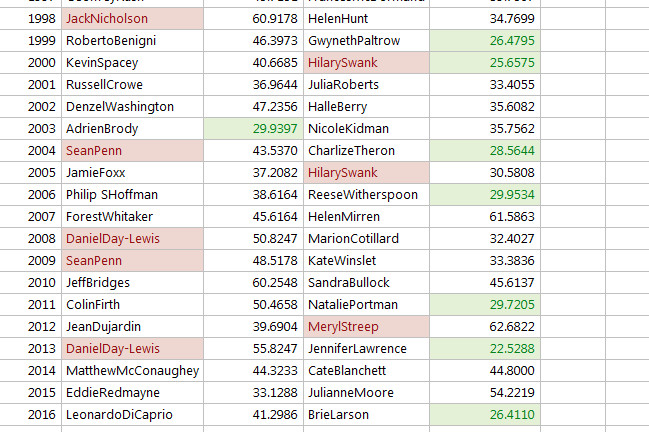 To get a better comparison, I am going to remove the repeats (with the help of the highlighted cells) for actors and actress who won more than once and only take into account their age at first win. This gives data from 79 Best Actor and 74 Best Actress winners. I am going to use the Assistant to carry out a comparison using the 2-sample t-test.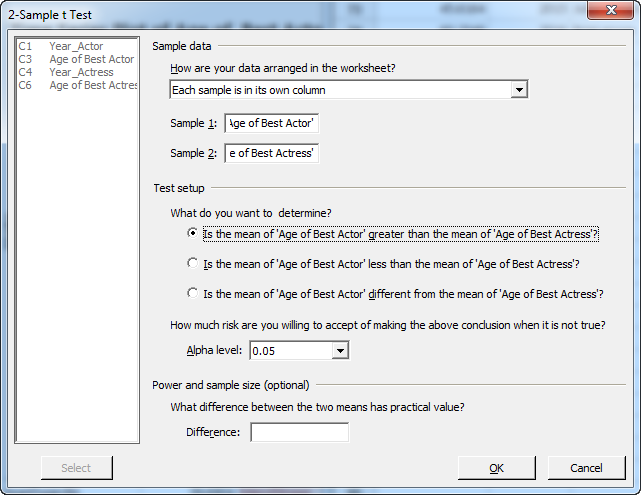 Apart from generating easy-to-interpret output, the Assistant also has the advantage of carrying out a powerful t-test even with unequal sample sizes using the Welch approach.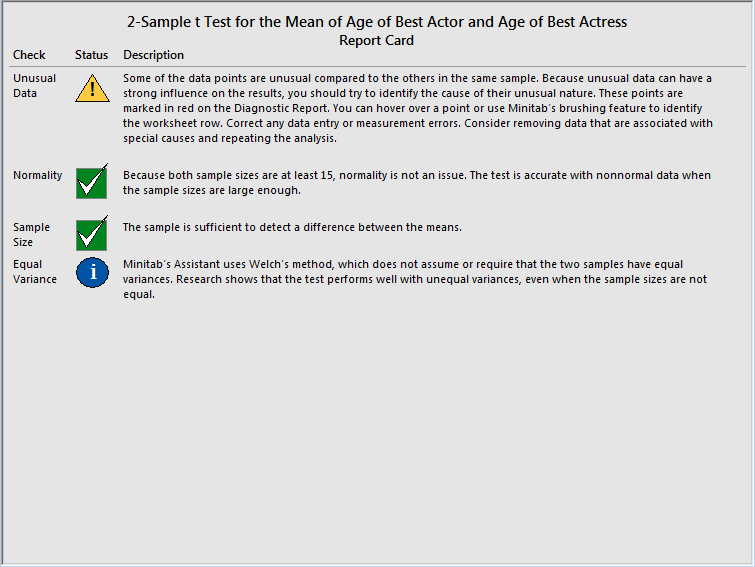 The Report Card indicates that we have sufficient data and the assumptions of the t-test are fulfilled. However, Minitab also detects some usual data which I will look into further.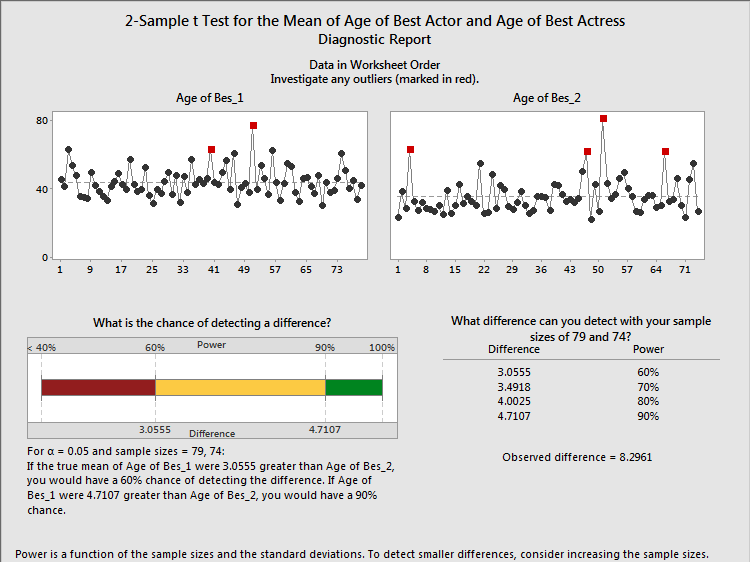 Using the brush, the following unusual data are identified.
Best Actor:
John Wayne (62.8658)
Henry Fonda (76.8685)
These winners were considerably older, as the majority of the actor winners are in their 40s and 50s.
Best Actress:
Marie Dressler (63.0027)
Geraldine Page (61.3342)
Jessica Tandy (80.8000)
Helen Mirren (61.5863)
These winners were considerably older as the majority of the actress winners were in their late 30s and 40s.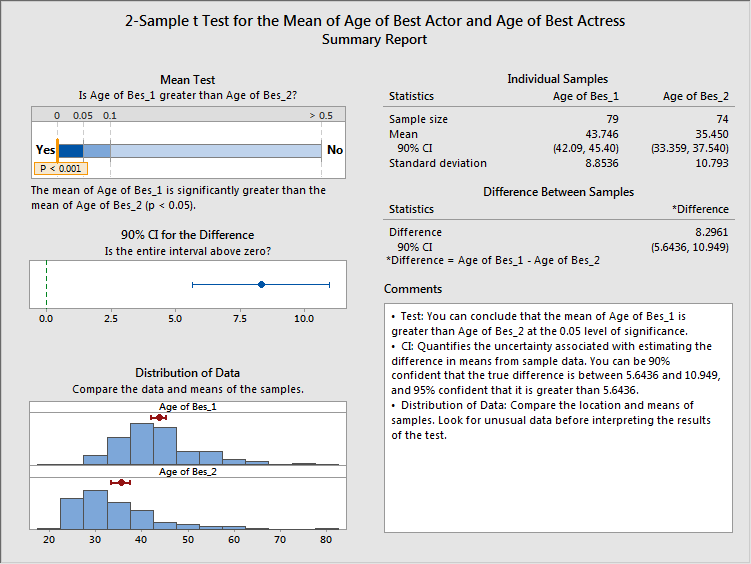 The Summary Report provides the key output of the t-test. The mean age of Best Actor is 43.746, while the mean age of Best Actress is 35. The p-value value of the test is very small (<0.001). This means that we have enough evidence to suggest that, on average, the Best Actor winner is older than the Best Actress winner.
I will leave it to others to speculate (and perhaps even use data to explore) why this apparent age gap exists. However, whatever their ages, we all enjoy seeing these Oscar winners' amazing performances on the big screen!
Photograph of Leonardo DiCaprio by See Li, used under Creative Commons 2.0.