In an earlier post, I shared some great hidden helpers in Minitab Statistical Software that even many veteran users don't know about. Here are a few more!
Everything In Its Right Place
Minitab's Project Manager allows you to navigate, view, and manipulate various parts of your project. Right-clicking either the folders or their contents lets you access a variety of menus that allow you to manage Session Window output, graphs, worksheets, command language, and related project areas. You can also copy any or all analyses and graphs to Minitab's built-in ReportPad to create reports and share your results with colleagues who may not have Minitab. You can also move ReportPad contents to a more powerful word processing program for further editing and layout. Press CTRL+I to access Minitab's Project Manager.

Color Your World
To change the color of bars and symbols on a graph, double-click on any bar or symbol. Then use the Attributes tab to change the fill pattern, color, outline, and other aspects of how your graph appears.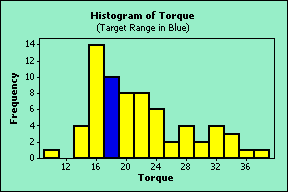 Excel-lent Data Importing Capability
To import data from Excel into Minitab, choose File > Open Worksheet, select Excel from Files of type and navigate to your Excel document. If you open a workbook with multiple sheets, each Excel sheet opens into a separate Minitab worksheet.
You can also click Options and Preview to specify the data to import and to ensure that it is formatted properly. Need to import a CSV or text file? You can import those and other data file formats using File > Open Worksheet.
It's Automatic
Minitab's Autofill capability lets you automatically repeat the value in a cell (or cells), or follow a pattern as you click and drag down a column or columns in a worksheet.
To repeat a value, select the cell, then hover your cursor on the lower right corner of the cell. When the cross appears, click and drag down the column to repeat the value in other cells.

To repeat a pattern of values rather than a single value, press CTRL as you drag, following the same convention as in Excel.
You can even use Autofill with custom lists. For example, with the worksheet active, choose Editor > Define Custom Lists to define "Mon Tues Wed Thu Fri Sat Sun" as a list, type one of the values in the first row of a column, and click and drag to fill in the list.
What features in Minitab do you find most helpful? Let us know and we'll share your favorites.