Visual Aids for Crafting a Jack O' Lantern from a Pumpkin
With Halloween just around the corner, I decided to embrace the spirit of the season and finally carve a pumpkin this year. While Halloween may not be my favorite holiday, I'm always on the lookout for family-friendly activities that my children can enjoy. Since my kids are too young to read, and lengthy directions can take away from the fun, I decided to use Minitab Workspace to craft visual diagrams that provide clear instructions for a fun and successful pumpkin carving experience.
What Supplies Do I Need?
Pumpkin carving may seem straightforward with a pumpkin and a knife, but there's more to it than meets the eye. To ensure success, there are specific tools and supplies you'll need. Through my research, I've crafted a mind map that lists the essential items required for a successful pumpkin carving festivity.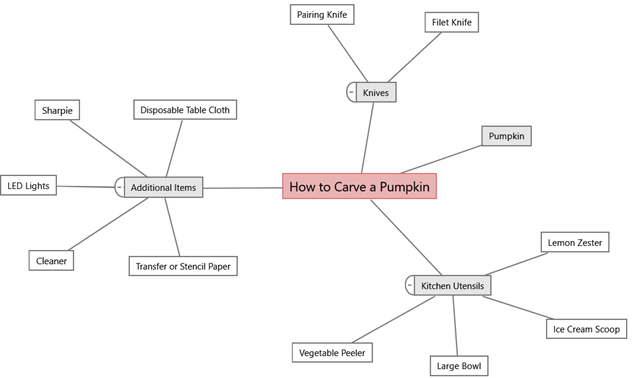 Directions
As our readers know, efficiency is the name of the game. What better way to illustrate this process than with a pumpkin-shaped process map? In full transparency, I'm bending a few presentation "rules" typically associated with process mapping (which you can learn more about from this webinar or this eBook). But in the spirit of Halloween, consider this a thrilling trick and a tasty treat!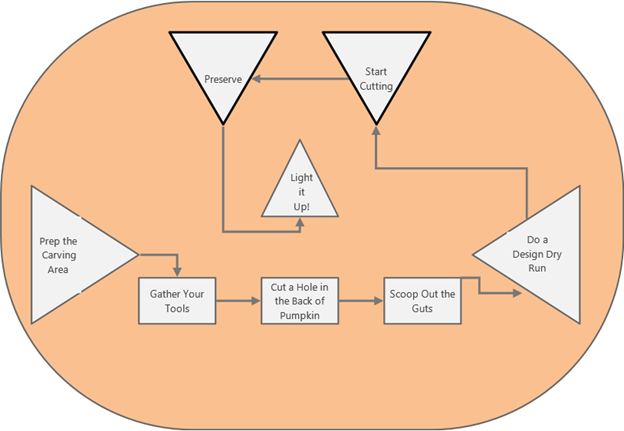 More Detailed Instructions
Since I'm no pumpkin carving expert, I want to give credit to the folks at Real Simple for inspiring me and offering more in depth instructions. Wishing you the best of luck with your carving and have a spooky Halloween!
Ready to experience the tools in Minitab Workspace for yourself? Download a free trial now.