Using Design of Experiments (DOE) to find the settings to optimize and improve your process can be extremely beneficial. However, performing a DOE can also be a challenging task for quality improvement professionals. It's easy to get lost right from the start—especially when it's time to choose the correct design and the appropriate number of factors and levels. Selecting the ideal model for final decision making can also be tricky.
I too find DOE a bit daunting (to say the least!), and when I had the opportunity to attend Minitab DOE training with trainers Lou Johnson and Eduardo Santiago, you better believe I jumped at the chance! Lou and Eduardo spend a lot of time in the field with Minitab customers and they've collected several helpful tips and best practices for performing a DOE:
1. Exploratory runs identify the right variable space to study.
Performing exploratory runs prior to the main experiment can help you identify the settings of your process as performance moves from good to bad. This can help you determine the variable space to conduct your experiment that will yield the most beneficial results.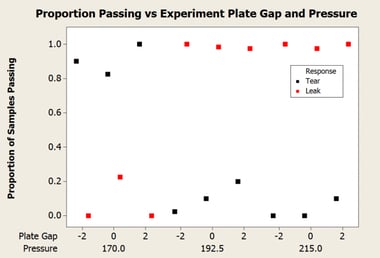 2. Control runs spread throughout the experiment measure process stability.
By spacing center points evenly through the design, these observations serve as an indicator of the stability (or instability) of your process during the experiment. Since center point runs are usually near-normal operating conditions, these runs can serve as a control to check process performance.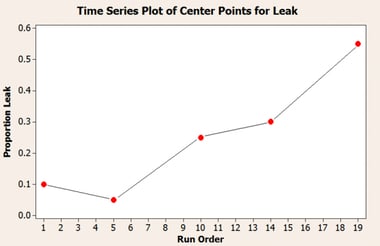 3. Use Pare
to anal
y
sis to ident
ify the big
ge
st problem to solve.
A Pareto chart of product load or defect levels can help you identify which problem to fix that will result in the highest return to your business. Focusing on problems with high business impact improves support for your experiment by raising its priority among all potential improvement projects.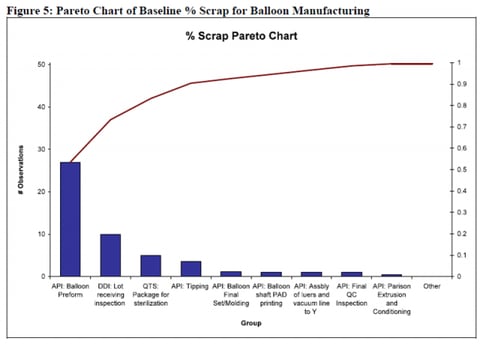 4. Expand the range of input settings to improve power.
Test the largest range of input variable settings that is physically possible. Even if you think they are far away from the "sweet spot," this technique will allow you to use the experiment to understand your process so that you can find the optimal settings.