Every organization can benefit from continuous improvement. While Lean, Six Sigma, Kaizen (and more), are commonly used in the vernacular of a continuous improvement professional, they are disciplines for all of us to apply to our daily professional lives to create efficiency and drive value.
The term "Lean" tends to focus on maximizing value through creating efficiencies, such as removing waste and eliminating defects. It is a mindset that everyone in an organization should be able to spot waste and address it with their management team. As Lean tools tend to have less statistical analysis than some of the other improvement disciplines, it is often an attractive entry point for everyday professionals to incorporate continuous improvement practices into their work. After all, Lean tools are more about understanding the process, eliminating waste, and preventing mistakes.
In this blog, we'll highlight 3 simple Lean tools for process improvement, why they're important and how Minitab Engage can help you successfully leverage these tools across your organization. Let's get started!


Lean Tool 1: Work Element Time Study

Work Element Time Study is used to analyze and improve a process. The tool takes a task, breaks it into sections, and measures the time it takes to complete each section. Data gathered and analyzed during the process can spot inefficiencies, boost productivity, and eliminate waste.

Why It Matters
Work Element Time Study can help organizations understand the time it takes to complete a task or project to make accurate estimates for future projects and improvements.

Example

With Minitab Engage, we can get a clear view of a food safety process to better understand and address any inefficiencies in the process.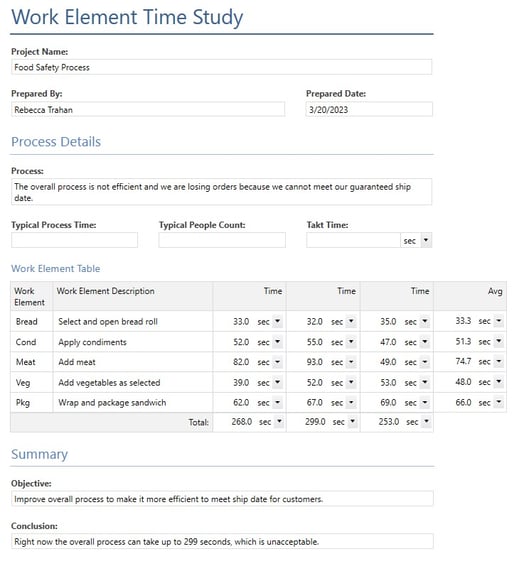 By using the Work Time Element Study tool, you can efficiently gain a better understanding of the time required to complete a task and make more accurate estimates for future work, saving your organization time and money.


Want to learn more about Minitab's end-to-end improvement solution?
Next, let's cover our second Lean tool.
Lean Tool 2: Gemba Walk


The idea of reviewing the actual work process in person is called the Gemba Walk. "Gemba" is Japanese for "the real place," meaning where the real work happens. Gemba Walks allow leaders and managers to observe processes in real-life, engage with their team and operators, gain knowledge about the process, and explore ideas for continuous improvement. While Gemba Walks are quite popular in manufacturing settings, the concept of a Gemba Walk is applicable to many processes and is akin to "walking through" a process to identify opportunities for value creation or time savings.


Why It Matters
The overall purpose of a Gemba Walk is to observe, understand, and ultimately, improve a process. Wherever there's a process, a Gemba Walk is beneficial. This tool can be applied to any process, no matter the industry. To ensure accuracy, it can also be used along with a process map.
Example
Our Gemba Walk Interview Sheet example shows a manufacturing process using Minitab Engage. It highlights an overview of the project, observations, and improvement opportunities.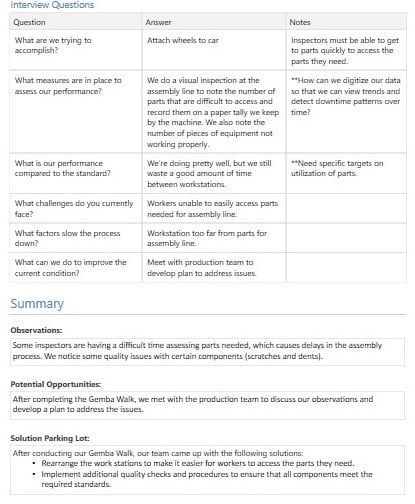 If done well, a Gemba Walk encourages openness, collaboration, and teamwork across all levels of the organization.

Lastly, let's cover our final Lean tool.


Lean Tool 3: A3
The A3 is a structured template for solving problems and determining root causes. It is an effective tool for organizations seeking to improve their process and solve problems efficiently.

Why It Matters
A3 is a crucial methodology for problem-solving and continuous improvement. Its simple, structured approach, visual communication, and encouraged cross-team collaboration make it an effective Lean tool. It also helps to propose improvements, reporting, and coaching across the organizations. One of the key values of the A3 is that you can see the whole problem, its root cause, and a solution on a single page or screen.
A3 helps the entire organization communicate the problem and the solution in a clear and concise manner.

A3 Example
Using Minitab Engage, we can easily view a pizza making process on a single screen. With an A3 form, you can also attach a brainstorm diagram for additional insight into the root cause, giving you a clearer view of your process in one place.






Conclusion
Learning to use Lean tools is not only beneficial for any continuous improvement practitioner, but also practical for the rest of us. With Minitab Engage, you can apply these powerful tools to execute projects and monitor your progress with a web-based dashboard. Using a workflow, Engage will manage the flow of ideas to projects to completion, effortlessly streamlining reviews and approval.


Ready to explore the 10 critical Lean tools?

Download our free eBook to discover the 10 critical Lean tools to help you identify and eliminate waste and defects across your organization.