Honey, put the kids in the car while I hitch the trailer to the back. We're going to Cushing Oklahoma!
That was my initial thought in April of 2020 when the price of oil dropped below $0 a barrel for the first time in history. Of course, the cost of driving to Oklahoma and back was probably more than any actual profit I could gain from however many barrels I could take. And I had no plans to store it either! The thought of having someone pay you to take barrels of oil off their hands was alluring, but my process to get it and store it was very lacking.
Of course, the negative price didn't last long. It rebounded quickly and climbed all the way up to $122 a barrel over the next two years. As of today, the price is at $90 a barrel, but that is sure to change by the time you're reading this. This kind of volatility shows why oil and gas companies need to be increasingly agile. The most successful organizations employ methods that accelerate transformation. Whether that is identifying where to cut costs, improve efficiency or scale their operations, it allows the business to maximize growth. Process improvement efforts provide short term wins, but also help establish a strategy for longer term success.
Underestimating your process requirements can lead to slow production or unintended shutdowns. Overestimating the process requirements can tie up valuable capital.
Value Stream Mapping
A value stream map can be an important tool when it comes to process improvement. A value stream map illustrates the flow of materials and information as a product or service moves through the value stream. It includes all the required activities that generate a product or service. You can create value stream maps that represent your current process, or the process that you hope to have in the future.

Above is an example of a value stream map for an oil refinery process. You could take a high-level view to find wide ranging inefficiencies. Or you could dive deeper into a specific process like refinery or distribution to increase productivity.
The next two sections are examples of how real companies used process improvement to their benefit. The first example shows a company increase the efficiency of their fleet. The second shows how a company was wasting resources producing fuel above spec and was able to reduce produce quality giveaway.
Improve your supply chain with one powerful tool
Creating an Efficient Fleet
A refining company operating a fleet of natural gas liquids (NGL) railcars was experiencing high costs relative to the low utilization of its fleet. They reviewed the network, identified cost-reduction opportunities and discovered that the company was asking the wrong question. Management historically measured fleet performance in terms of railcar turns, defined as the average number of railcar shipments per period. This definition implicitly assumes that the transportation of product is the only utility provided by the railcars. But in reality, the refineries also held loaded railcars to buffer against inbound supply variability and held empty railcars to provide containment storage during operational disruptions. With this broader perspective in mind, a holistic fleet sizing analysis ultimately led the company to recommend expanding the fleet size. By redefining railcar utilization to include non-transportation uses, the team avoided arriving at a conclusion that would have jeopardized the continuity of NGL supply and reduced the refineries' ability to mitigate variability.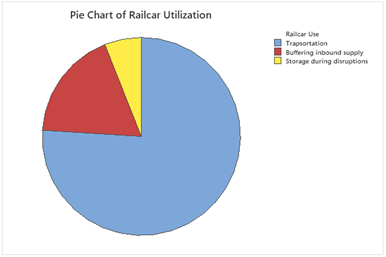 Refining Fuel in Spec
A refining company faced challenges meeting the product specification targets in its blending process. Their gasoline and diesel were produced with attributes above the required specifications, without compensation for the incremental quality. Lacking an approach to identify where the losses were occurring, the company conducted a detailed value stream analysis. Findings showed several root causes, including conservative specification targets, deviations in starting recipe, inconsistent inventory management practices, and limitations in reproducibility and reliability of measurement systems. These insights allowed the organization to develop an online blend analyzer system and a blend approval and auditing process, which minimized product quality giveaway by 55%.

Want to learn how to improve your processes? We are ready to help!
Summary
The oil and gas industry plays a major role in the energy market. There is opportunity for continuous improvement across all stages, whether it is in the exploration and production, the transportation and storage, or the refining and marketing stages. Improving efficiency in even one of these areas can have a tremendous impact on the bottom line.