Continuous improvement and operational excellence should be a part of every high performing organization. In one of our recent blogs, we covered how organizations should turn to these types of activities during recession, rather than cut investments and resources that will save money today and stifle future growth.

Healthcare providers should be taking the same approach. A recent article from the Wall Street Journal highlights that healthcare providers are being forced to cut back on assets, staffing, and services in order to address the rising costs and cash flow challenges. Rather than cut back on things that improve the overall patient experience – and help differentiate healthcare providers – why not invest time and effort toward improvement projects that benefit the provider as well as the patients?

In this blog, we'll dive into five improvement strategies for healthcare providers to help reduce costs without impacting patient care.


Improve the Overall Patient Experience
Improvements that make your patients happy will ultimately make you happy too. Your patients want to move in and out of the facility as quickly and efficiently as possible. Eliminating simple errors like delivering the incorrect meal to a patient, reducing X-Ray errors or wait times, can go a long way toward a positive patient experience. Equally importantly, these adjustments will save you money as well. Not sure what will make your patients happy? Survey them and even use predictive analytics to uncover what factors have the biggest impact on your patients and bottom line.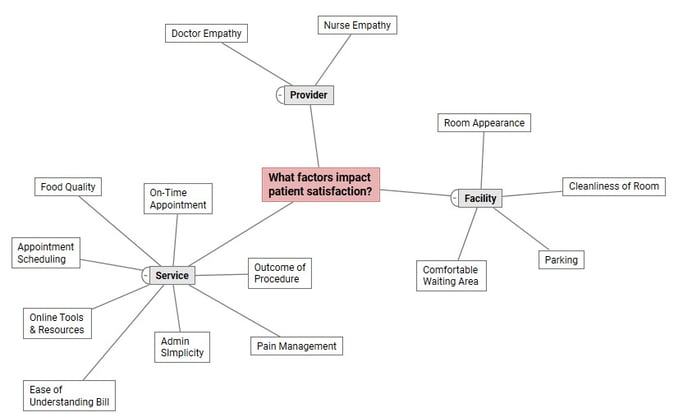 Looking to Improve? Watch our Webinar: Improving Healthcare Services and Patient Outcomes by Leveraging the Power of Data Analysis.
Manage Inventory by Improving Your Process
Another improvement strategy is to implement efficient inventory management processes to reduce waste, optimize stock levels, and minimize expired or unused supplies. This helps to avoid overstocking and ensures timely availability of essential resources. During the height of the pandemic, Adventist HealthCare used process mapping to conserve masks and other PPE when supplies were constrained. This strategy can be utilized across all PPE, along with other items that can potentially be reprocessed (rather than discarded), or better utilized.


Implement Energy-Saving Tactics
With the steady rise in energy costs, some organizations feel pressured to proactively develop strategies to conserve energy. Healthcare providers can implement energy-saving measures such as:

• upgrading their lighting systems to LED
• installing motion sensors
• optimizing HVAC settings
• conducting regular energy audits

These initiatives can significantly reduce utility costs without impacting patient care.


Expedite Claims Payments
The time it takes to resolve a healthcare claim and obtain the payment for services rendered is a key measure for providers. Improving the efficiency of healthcare claim transactions can significantly boost revenue and cashflow. Read this step-by-step approach to harness the power of your data to tackle this problem.




Preventive Maintenance of Equipment
The final improvement strategy that healthcare providers can implement is to proactively maintain their equipment. This strategy also includes adhering to manufacturer guidelines and scheduling regular inspections. Timely maintenance reduces equipment downtime and the need for costly emergency repairs or replacements. Learn the approach that capital intensive industries take to care of and maintain their equipment.

Looking for real-life examples of continuous improvement at work? Read our case studies.