If you play, you know what the question means. If not, Wordle is a New York Times owned word game where the goal is to guess a 5-letter word in the fewest number of guesses possible. Each successive guess reveals more information about the letters and their locations in the word you are aiming to guess. There is one word each day and that word is the same for everybody that plays.
Want to try Wordle for yourself? You can access it here.
Like many workplace and family groups, here at Minitab, Wordle has become bit of a bonding ritual. While it is not a replacement for the morning group jaunt down for coffee or tea, it brings the remote employees and global offices together to connect and engage in good old-fashioned competition. As more employees have joined in Wordleing (which I realize is not a word yet, but probably will be soon), I created a dashboard to:
Make it easy to enter game data
Easily aggregate our results
Share the dashboard with others, so they can see how they compare and queue up the appropriate bragging rights each day
The Form
Colleagues enter play information using a web-based form that they access from anywhere. For convenience we have the form directly on the dashboard.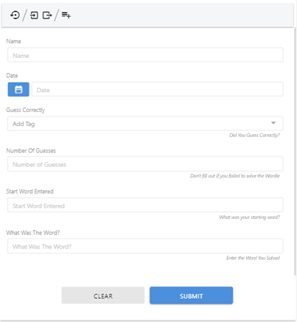 The Dashboard
Our simple Wordle dashboard includes descriptive statistics. You will see the best score for the day as well as the average number of guesses for that day's word. Also, you see our all-time average number of guesses. The word cloud highlights the most frequently used start words. We can easily see that while many employees use a fresh start word each day, some begin each round with their go-to opener.

The other two visualizations should look familiar to anyone who has used Minitab Statistical Software before. These visuals demonstrate a feature we call Live Analytics. Live Analytics provides you with the ability to include Minitab Statistical Software analytics and visualizations on Minitab Connect dashboards.
While we use this dashboard for pure fun, this is exactly what many of our customers do every day using Minitab Connect. Minitab Connect is our solution that enables you to access, prepare, enrich, and analyze data from all your critical sources for meaningful business intelligence and confident, informed decision-making. While we leveraged a simple form for data entry for our Wordle dashboard, Minitab Connect can access data from pre-built connectors and flexible ingestion options. Whether your industry is manufacturing, healthcare, banking, or any other, Minitab Connect can help you to automatically bring all your data sources together and provide you with timely, real-time, and active insights.