Today, data is everything. From predicting future outcomes to improving the quality of products, data analysis is essential for any organization that wants to stay competitive. However, most data is collected and never analyzed, and when it comes to data, ignorance is NOT bliss.
That's where Minitab comes in. You are probably already familiar with the value that Minitab Statistical Software provides, whether you are trying to design better products, improve processes or predict likely outcomes. After all, Minitab has been helping companies analyze their data for over fifty years.
But did you know that the team at Minitab designed several different modules to take your analysis to the next level? Let's take a closer look at Minitab's four cross-industry modules and see how they could improve your analytical journey.
Minitab's Four Cross-Industry Modules
1. Predictive Analytics
Wouldn't it be great if we knew what key historical factors would predict future outcomes? With Predictive Analytics, you can build detailed models and make predictions based on your past data.
Whether you are working in manufacturing and trying to predict demand for a product or product defect rates, healthcare trying to predict risk factors for disease or even in finance trying to predict future market trends, Predictive Analytics has the power to take you where you need to go.
Learn more about our Predictive Analytics Module:
2. Measurement System Analysis
When it comes to data quality, accuracy is key. Whether you are working in a laboratory or on a manufacturing floor, the quality of your data can directly impact the success of your project. That's where Minitab's Measurement System Analysis (MSA) module comes in.
MSA is designed to help you assess the quality of your measurement system— all in one place. By using this module, you can identify potential areas of improvement and ensure that your data can be trusted. This, in turn, can lead to better outcomes for your projects and ultimately save you time and resources.
By improving the quality of your data, you can make more informed decisions and reduce the risk of errors or inconsistencies and, ultimately, build a stronger bottom line for your organization.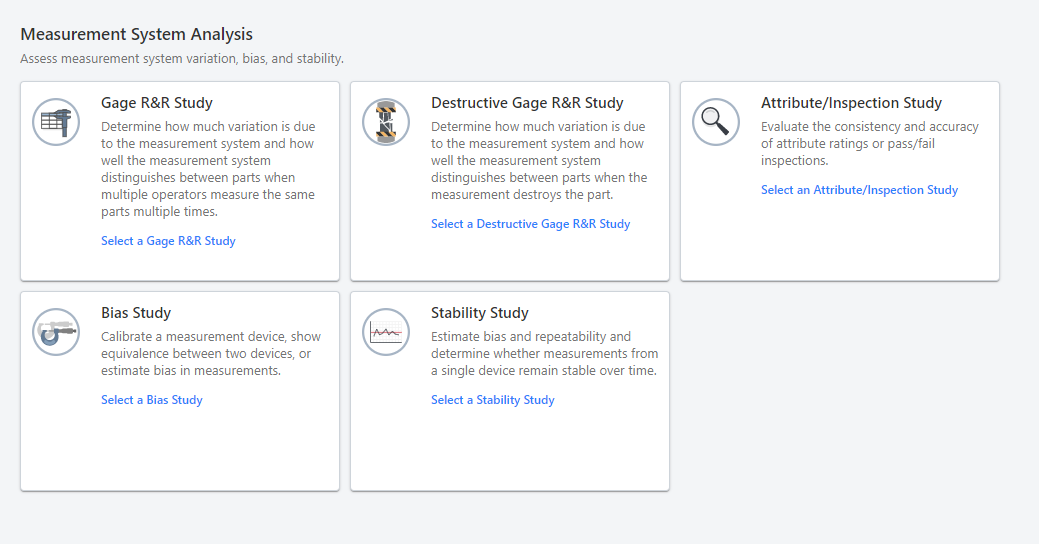 You can assess measurement system variation, bias and stability with Minitab's MSA module.
Check out Minitab's MSA module:
3. Sample Size
One common question we hear at Minitab is "How much data do I need?" Minitab's Sample Size module helps determine how much data is needed for each problem to ensure you can make decisions with confidence.
If you regularly use Interval Estimation, Hypothesis Testing, Design of Experiments, Proportion Conforming or Reliability Over Time, this module could be especially useful for you.
Read about the Sample Size module:
4. Supply Chain
The Covid-19 pandemic taught us how important it is for your supply chain to be smooth and predictable. Minitab's Supply Chain module can highlight areas for improvement and can help you manage demand patterns, lead times and order frequency.
In conjunction with our Predictive Analytics module, you can better predict what you will need and when. Logistically, the Supply Chain module can be used to optimize transportation routes and modes by analyzing shipment volumes, distances and costs, reducing the price of transportation and improving on-time delivery of products.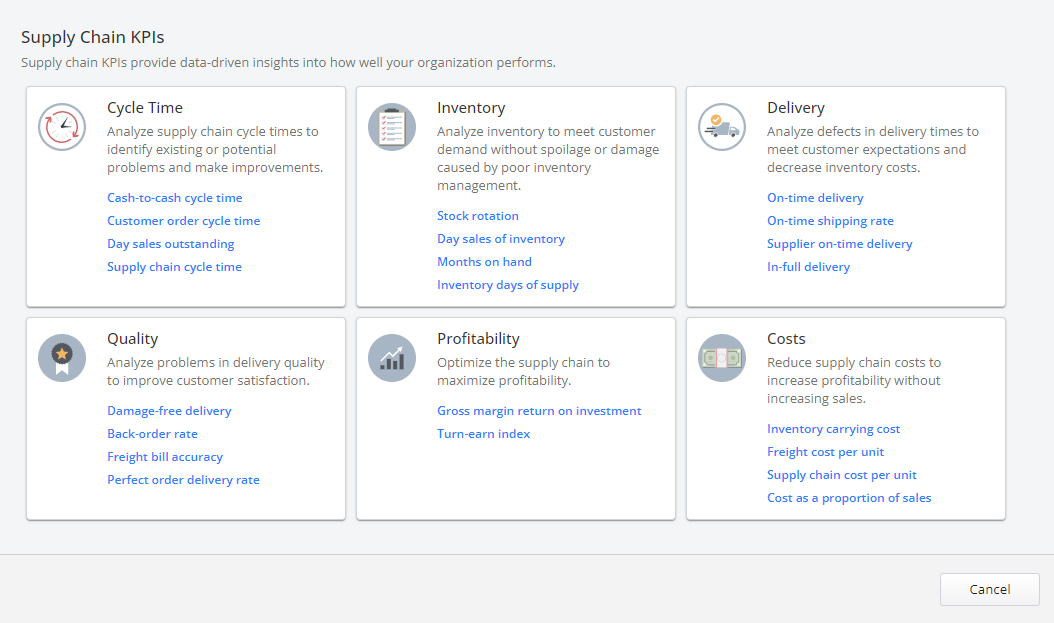 Minitab's Supply Chain module can help provide data-driven insights for your team and organization.
Learn more about Minitab's Supply Chain module:
Boost your analsyis
Minitab's modules were designed to save you and your organization time, money and resources. By utilizing these modules, you can take your data analysis to the next level and stay ahead of the competition and predict market trends.
If you are interested in learning more about our modules, please do not hesitate to connect with us today.