Greg Kinsey is a senior advisor in the fields of operational excellence, digital transformation, and Industry 4.0, helping industrial companies with their Industry 4.0 strategy, implementation, stakeholder buy-in and alignment, Genba engagement, and benefits realization. In January 2023, he joined the international operations consultancy and Minitab Gold Level consultant Argon & Co as a Partner, leading the Digital Manufacturing practice.
Greg Kinsey shares his view on the Future of Operational Excellence – and how you can be part of it.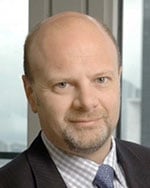 Greg Kinsey is convinced that companies need to bring together their existing Operational Excellence and Lean Six Sigma functions with their Digital Innovation teams.
"All that great engineering talent already exists," said Greg. "Bring that together with the Digital teams, inject some outside expertise, and some new tools and continue to accelerate upon all the things that they've been doing."
Resistance to the

'Smart Factory'

With the digital transformation of manufacturing filling today's headlines and bringing in a new whole language around the 'smart factory', Operational Excellence teams may feel disengaged.

"People talk about AI, Advanced Analytics, Digital and all these new buzzwords, like IoT, and you have the same kind of resistance bubbling up in the factories," explained Greg.

The good news for Minitab users is Greg is convinced that professionals involved in Operational Excellence are the best fit to help their organisations drive the future of manufacturing.
The Truth about Industry 4.0 vs Operational Excellence
In Greg's view, Industry 4.0 or the 'fourth industrial revolution' is natural area for Lean Six Sigma professionals to lead in. It is simply a natural extension of what they have been doing for years.
"Industry 4.0 is simply the next wave of Operational Excellence and maybe the vocabulary will change as we go along, but I think the core principles upon which Lean Six Sigma was built, will be the core principles of Industry 4.0."
"The business case for Smart Factory is quite compelling because it builds upon all of the things that manufacturers have already been doing around Operational Excellence."
"It allows you to accelerate how you create even more gains in terms of your productivity, your quality, your flexibility. And it's addressing the usual production problems like eliminating bottlenecks, improving production runs and all preventing unplanned downtime."
Join the new generation to 3x Return on Investment
At the Minitab Insights Dublin Conference, Greg will share how today's Lean Six Sigma and Operational Excellence professionals can lead this future of manufacturing.
"I think the Black Belt and the Master Black Belt experience - not just the training, but their on-the-job experience - brings many of the elements that are integral with the 'Factory of the Future' and the digital transformation of that factory. I think there's powerful new tools now available that will build upon the existing tools," said Greg.
"The cool thing about smart manufacturing is that if you structure it in the right way, your projects have a direct impact on the bottom line with projects that have a factor of 3x to 10x return on investment within 24 months."
The toolkit for solving your most advanced challenges is changing fast and new opportunities arise with the digital transformation of operations. Watch our Webinar OnDemand The New Toolkit for Continuous Improvement to find out how to:
Power and digitalise your improvement projects and data analysis with best practice methods combined with intuitive tools.

Apply powerful analytics and machine learning techniques. And good news: you don't need to be a data scientist to start succeeding!

Solve problems and suggest innovations with whatever data you currently have available.
Use the Minitab toolkit to manage projects and analyse data following the Lean Six Sigma DMAIC structured approach.
Watch: Greg explains how you can be part of this transition
Read the second part of this interview Greg Kinsey: Black Belts Can (and Should) Drive the Digital Transformation of Manufacturing to discover the argument for why Lean Six Sigma professionals in the Minitab community should lead digital transformation.