Every March in the United States is Women's History Month. We honor and commemorate women who were pioneering, resilient and influential. As the world addresses a pandemic, there's no doubt this is very different from prior years.
In that spirit, we're taking time to showcase a few of many women in our field who prevailed in the face of adversity and made a major impact.
Florence Nightingale Makes the Case for Hygiene and
Hand Washing with Data Visualizations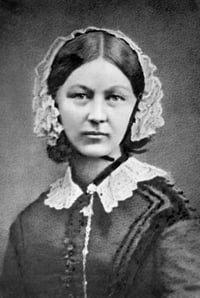 You probably know Florence Nightingale as the "Lady with the Lamp" and the founder of modern nursing, however did you know that she is also a celebrated statistician?
Nightingale always felt called to nursing and helping others. After studying in France and Germany and serving as the superintendent of London's Institution for Sick Gentlewomen in Distressed Circumstances, she really began to shine helping at a British hospital in Turkey during the Crimean War. Nightingale noticed and dealt with many issues at this hospital, including improving hospital hygiene and patient care as well as ensuring adequate medical supplies were made available. She and her team helped to significantly reduce mortality rates and improve hospital cleanliness before she left Turkey in 1856.
The now famous Nightingale set out to share what she had learned upon her return to London, explaining how lives were saved thanks to improved hygiene, hand washing and sanitation. To prove her point, Nightingale collected and analyzed medical data and presented it graphically in an extensive study clearly showing that lack of sanitation was the main cause of wartime death — not the short supply of medicines or lack of food.
In particular, her data analysis revealed British solders were 10 times more likely to have died from disease than combat and that British soldiers in England died at twice the rate of civilians due to military health care inadequacies. Nightingale's work led to her selection as the first woman admitted to the Royal Statistical Society and health policy reforms that not only saved the lives of countless British soldiers, but continues to help save lives and keep people healthy even today.


---
Looking for assistance during these uncertain times?
See how Minitab is here to help
---

'Human Computer' Katherine Johnson
Helps Get Man on the Moon
Have you seen the 2016 award-winning film, Hidden Figures? The movie is loosely based on the story of Katherine Johnson and other black female mathematicians who worked at NASA during the Space Race era.
From a young age, Johnson was always counting and showed a great appetite and aptitude for numbers. She flew through school and even entered West Virginia State College at the age of 15 where one of her professors recognized her calling as a research mathematician.
Johnson became a college professor until an opportunity opened up for her: NACA (National Advisory Committee for Aeronautics and predecessor to NASA) was hiring black female human "computers" to check calculations for their engineers. Johnson was hired, but quickly stood out from the others as she was very inquisitive and persistent in asking questions to understand "why."
When President Kennedy charged the United States with sending a man to the moon, Johnson joined the team and calculated the trajectory for America's first space trip in 1961. Eventually Johnson went on to handle the calculations for the first actual Moon landing in 1969. Johnson's resilient and inquisitive nature opened up opportunities not only for her, but for other women and girls to follow providing that no star or dream is out of reach.
'First Lady of Statistics' Gertrude Cox Viewed
Statisticians as Partners in Science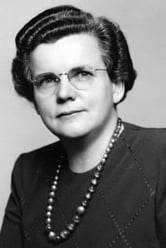 Earning the influential title "First Lady of Statistics," Gertrude Cox was an American statistician and founder of the first Department of Experimental Statistics at North Carolina State University in 1941.
She was later appointed director of both the Institute of Statistics of the Consolidated University of North Carolina and the Statistics Research Division of North Carolina State University.
Cox's research dealt primarily with experimental design. She began teaching courses on design of experiments in 1934 at Iowa State University, but her design material wasn't officially published until 1950 when she collaborated with W. G. Cochran to write Experimental Designs, which went on to become on of the most influential statistics books ever written and is still in print even today.
In 1949, Cox continued to break the mold and became the first woman elected into the International Statistics Institute. In 1956, she was elected the President of the American Statistical Association. When asked about career opportunities, Cox would reply the "field of statistics is certainly wide open to women." Thanks to Cox's zest and influence, other women and girls are able to follow her footsteps and passion in statistics.
---
Minitab is an equal opportunity employer
Interested in joining our team? See our current job postings
---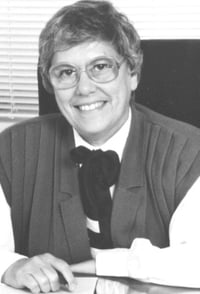 Government Economist Janet Norwood
Paved the Way for Future Female Leaders
Janet Norwood was the first female commissioner of the US Bureau of Labor Statistics, appointed in 1979 by Jimmy Carter and then reappointed twice by Ronald Reagan in the 1980s. She frequently found herself as the sole woman at government agency and professional association meetings, so she helped bring attention, acceptance and recognition to female presence and leadership.
Norwood started as a part-time junior economist in the US Bureau of Labor Statistics, but over time rose through the ranks until her appointment. Throughout her career, Norwood was recognized for her integrity, professionalism, and impartiality. Her contributions focused primarily on government statistics, including unemployment rates and the Consumer Price Index.
In 1989, she followed in Gertrude Cox's footsteps and was elected president of the American Statistical Association. She also held offices at the International Statistical Institute and the Urban Institute, among many other professional associations. Norwood was a trailblazer for many future female leaders.
A huge thanks to all the women above and all over the world in the past, present and future who have sacrificed and created opportunities for women like myself and others.