Every organization wants to improve. No matter the industry or department, everyone wants to make steady changes toward business excellence.
In this blog post, we'll highlight the basics of continuous improvement, the stages, and the principles to help you ensure successful CI implementation across your organization. If you are new to continuous improvement, Minitab Engage has the tools to get you started.


What is Continuous Improvement?
Continuous improvement (CI) is an ongoing effort to improve a process, product, or service throughout an organization. The concept focuses on enhancing the activities that generate the most value for the customer, while removing waste, and making an organization more efficient.

CI can help organizations solve any of the following challenges:
• Lack of instant and complete visibility into initiatives
• Struggle to execute and sustain operational excellence
• Difficulty gaining stakeholder buy-in
• Inability to create a measurable culture of innovation
Continuous improvement is just that - continuous. Organizations regularly seek to make incremental improvements, and ensuring they are incremental makes them more attainable.



The 4 Stages of Continuous Improvement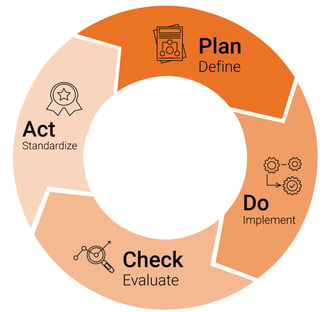 You might have also heard of continuous improvement referred to as the PDCA cycle, or Plan-Do-Check-Act, which supports the four steps of continuous improvement.

Stage 1. Plan: identify process goals and changes needed to achieve them
Stage 2. Do: implement those changes
Stage 3. Check: evaluate performance
Stage 4. Act: standardize and stabilize that change, or begin the cycle again
This repeated cycle is the foundation of continuous improvement.

The PDCA cycle is a high-level view of a CI process from start to finish. We'd also like to note that PDCA also refers to a popular problem-solving methodology with the same name. (We know, confusing!) The methodology is used to improve a process or product by breaking it down into steps and improving each step. By implementing a problem-solving methodology, organizations can efficiently get to the root of the problem they're trying to solve, as quickly as possible.



The Principles of Continuous Improvement
Now that we've covered the basics of continuous improvement, let's dive into the principles. These principles will help you gain a better understanding of the problems you're trying to solve, so that you can tackle them more effectively.


Getting Started
We understand that you need solutions that can kick-start your improvement initiatives, formalize your process, or monitor and measure results. Let Minitab Engage be the solution of choice for your continuous improvement initiatives.


Ready to Build Your Innovation and Improvement Programs? We're here to help.