Recently we shared the first part of our interview with Dr Rozzeta Dolah – you can read the first part here.
Dr Dolah, what do you think are the biggest challenges faced by quality engineers or other quality professionals?
The British statistician, George Box, said "statistics used as a catalyst to engineering creation will, I believe, always result in the fastest and most economical progress." The moment I started my Black Belt in Six Sigma course, I felt that statistics is very important as a strong foundation to all engineers. As an engineer, it is our task to make it applicable and to simplify the complexity of statistics into something practical. That is what our quality guru, Dr. Taguchi, did. Statistics is, or should be, about scientific investigation and how to do it better. Dr. Taguchi simplified Design of Experiments to ensure that engineers can use it to practically solve production problems, and to sustain the habit for whenever engineers encounter variation.
My industry supervisors contributed a lot in overcoming the challenges in robust quality: Prof. Arun K. Chaudhuri from the Indian Statistical Institute and ADAAP Process Solutions Pvt. Ltd. who strongly guided me on Six Sigma, statistics, and robust design; Prof. Shuichi Fukuda who emphasized product design and value; Dr. Shoichi Teshima from Angletry Associates who emphasized quality recognition and prediction; Dr. Masayoshi Koike from Japan's National Institute of Advanced Industrial Science and Technology who made an effort in establishing a standard for robust parameter design; and Dr. Rajesh Jugulum from CIGNA Boston who integrates data science and process quality to empower robust products.
One of my industry supervisors during my Ph.D studies in Japan, Kazuo Tatebayashi from Fuji Xerox, stated that there are eight key success factors (KSF) to quality engineering challenges[1]. The main point of the KSF was to address the opposition from engineers that make quality engineering (QE) hard to deploy. This is due to the strong influence from QE advocates and the lack of understanding amongst top management. Fuji Xerox overcame the problem by training the problem-solving teams with external and in-house seminars.
8 Key factors for success (KFS)[2]:
Policy making by top management
Responsibility to promote QE
Promotion of activities
QE training consistency
Themes clarification of QE status
Continuous meetings
Consultant and expert support
Result review and clarification
When did you first use Minitab and how were you introduced to it? I first used Minitab in 2003 as I started my Black Belt consulted by Saleha Yusof and Dr. Paul Mullenix from Systats Consulting while I was working as an etching process engineer at SEH (M) Sdn. Bhd. My job at the time was to aim for zero defects in the etching process for silicon wafer and to obtain as higher production yield as possible which was quite a challenge! I managed to reduce the defects by 80% and that was the moment I knew there was something significant about Six Sigma and Minitab. I believed that Minitab and quality improvement methodologies could elevate Malaysian products onto the world stage, and that was the beginning of my passion for quality engineering.
Following this, I introduced Minitab to UTM, and have continued to use it even now in my post-doctoral position here at MIT.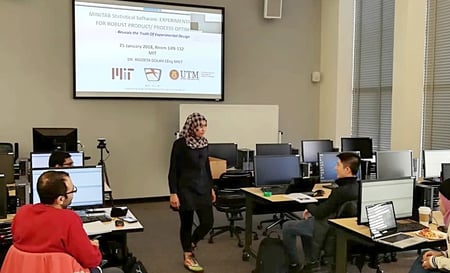 Presenting Minitab's process optimization capabilities at MIT
What do you like about Minitab? Minitab is very user-friendly. It has a broad range of applications, from basic statistics, through to experimental designs and response optimization. Minitab can be used as a vehicle to drive a process towards robustness and minimize variation and noise. I have used other software but found that Minitab's user interface is its differentiator. It has reiterated my interest in statistics where some people may feel it is rather difficult in theory. I started to learn and love statistics when I was first introduced to it at SEH where I applied statistics into real applications on the manufacturing line. That was when I really was able to see the beauty of statistics despite its jargon and complexity. When Dr. Taguchi simplified experimental design into Taguchi Method, it really allowed us to more easily apply statistics into engineering practise. I try my best to use Minitab in my teaching, research and consultation work, so my students and colleagues can experience it too.
What has been the biggest challenge you have faced in your professional career? It was probably finding my niche for my Ph.D and ensuring it was a blend of my education and my industry background. I really wanted to address what the industry needs and wants and decided to pursue it in Japan to learn the Taguchi Method and bring back everything I learned to Malaysia. That is how we had the idea of the Taguchi Centre at UTM as the hub for quality engineering in South East Asia.
What has been the greatest achievement you have faced in your professional career? Having the opportunity to do my post-doctoral at MIT in the United States has been my greatest achievement so far. I love what I am doing in the field of renewable energy and optimisation methods using what I have learned during my Ph.D studies around engineering of the Taguchi Method and experimental design. Another great achievement was of course completing my Ph.D at Meiji University, Tokyo with guidance from Engr. Shin Taguchi.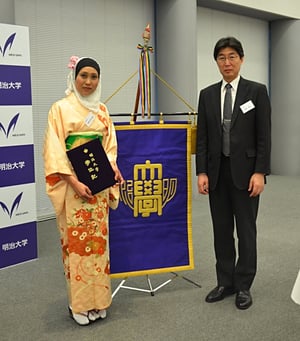 Dr Dolah with Prof. Zenichi Miyagi during her Ph.D graduation at Meiji University.
I was grateful to be certified as Chartered Engineer in 2015 by the Institution of Engineering and Technology (IET) in the UK for the promotion and the development of the knowledge and good practice in engineering.
Through my achievements, I am thankful for the support of my three children, Jeslina, Hazelina and Rayyan, as well as my mother Kelsom. They have been my back-bone and strength in striving for excellence in everything I do in my life.
I also thank my professors, Prof. Awaluddin, Prof. Datuk Halimaton, Prof. Sha'ri and Prof. Rose Alinda who have been with me through thick and thin, who saw my talent and ability and helped bring it out of me. A huge thanks must be extended to UTM Vice Chancellor Prof. Datuk Ir. Dr. Wahid Omar and all UTM staff for their support. Not to forget, my SEH (ShinEtsu Handotai, Malaysia) colleagues who have been together with me in quality field journey and sparked my interest from the beginning to what I am today.
What advice do you have for your students? Be educated about what the industry wants. Whatever field you go into, make sure it has an impact and something that can be applied to a contribution to society. Be practical and try to simplify things. I always tell my students to apply everything they learned in class to the real world. And I always remind them to think about the major take-aways of the subject whenever they step out of class. Do what you love. Prepare for your future, to have a vision is very important and plan what you are going to do. Believe and never ever underestimate yourself. Even a small contribution has an impact, every single small step adds up to something bigger.
What advice do you have for people in the quality field? Reduce Costs. Increase Quality. Eliminate noise and variation. These three elements are the pillar of world class quality products and process. Quality is evolving, it is not a fixed subject due to the variation that surrounds it. Don't take things for granted - quality is unpredictable, so get a feel for it and be alert to any abnormalities. Another important thing about quality is variation. Noise is quality's culprit. Therefore, it is tremendously important to eliminate noise! It is doable, and it just needs a little bit of passion to give big results for a big impact.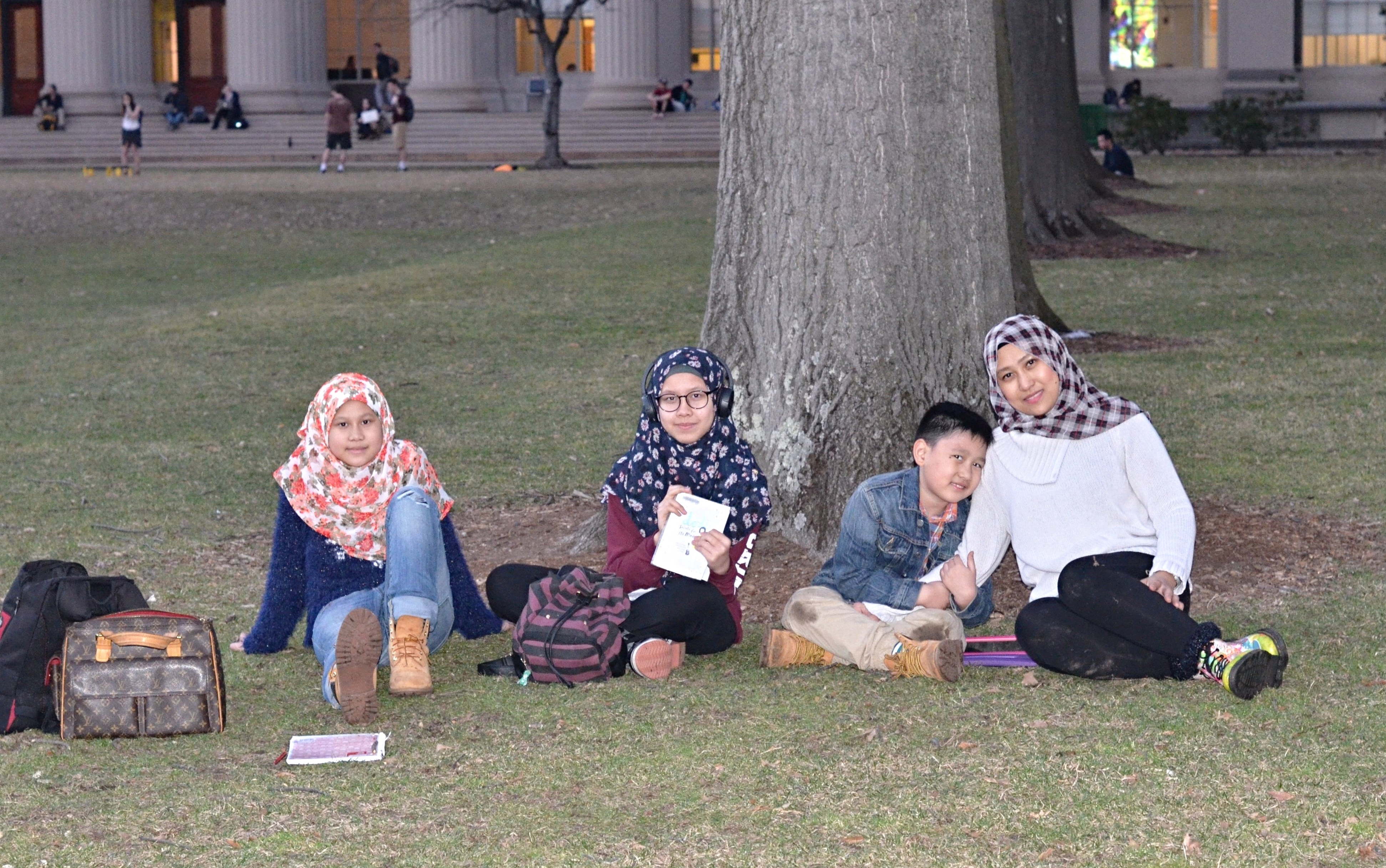 Dr Dolah and her three children during her post graduate studies at MIT.
At the end of the day, quality is not just about statistics, or engineering or optimization. It is not just about collecting data. It is more than that. Quality is always about making something better, it is a living process. Quality is not an act, but a continuous habit. It is not a fixed destiny and it is important to understand what to do next after one level is satisfactory.
I want to emphasise the engineers dealing with quality because we make processes or products for the customer. Engineers must work together with statisticians and vice-versa; we cannot work in silos. Engineers should master the process control by understanding the statistical behaviour and learn the know-how from statisticians, and vice-versa.
Another important relationship exists between the engineer and the people on the front-line. I recommend these engineers go down to the line and roll your sleeves up. Being hands-on really gave me priceless experience by doing, not just by looking.
We'd like to thank Dr Dolah for her invaluable insights into her career, and her excellent advice for young engineers-in-the-making.
To learn more about Minitab or to download the free 30-day trial, visit www.minitab.com.
[1] Rozzeta Dolah, Zenichi Miyagi, Kazuo Tatebayashi, Management and Production Engineering Review, Management and Production Engineering Review MPER, Volume 3, Number 4, December 2012 • pp. 26–34 DOI: 10.2478/v10270-012-0031-z
[2] Saitoh K., Yoshizawa M., Tatebayashi K., Doi M., A study about how to implement quality engineering in research & development (Part 1), Journal of Quality Engineering Society, 11, 100–107, 2003a.