It is no secret that the events of the past year have compelled many organizations to pivot their business strategy and prioritize new ways to work, collaborate and adapt to the new normal. Teams have had to unexpectedly transition to partial or entirely-remote environments, which has resulted in disjointed communications and siloed departments. This presents a unique challenge for operational excellence organizations, in which departments greatly benefit from consistent and intentional collaboration, to inspire great ideas that drive successful project execution and ultimately customer satisfaction.
It has often been said that great ideas inspire even more great ideas, and in today's increasingly virtual world, establishing an ongoing approach to fostering idea generation and innovation is significant for successful digital transformation. Knowing this, it should come as no surprise that over a third of top executives consider an increase in innovation to be one of the top digital transformation goals for their business, according to the 2021 State of Digital Transformation Report.1
Historically, though, the inability to establish successful innovation performance has been an ongoing challenge for executives. According to an article published by McKinsey & Company, 84% of executives consider innovation important to their growth strategy and success for their organization, while only 6% are satisfied with their innovation performance2. Today, more than ever, it is clear that that organizations need a plan for developing a culture of innovation, and a way to provide leadership with the full view of the impact of their organization's innovation initiatives.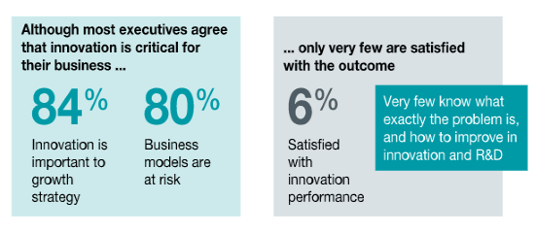 Source: McKinsey & Company: Growth & Innovation
A sustainable innovation program requires idea generation, organizational sponsorship and idea implementation – all of which require employee engagement. In order to maximize innovation performance and achieve digital transformation goals, organizations need to implement an end-to-end innovation and improvement solution, that can be adopted across teams and departments. This way, employees throughout the organization can contribute their diverse ideas, and leadership can monitor project status and performance metrics for their many initiatives.

What if we told you that Minitab has created the ultimate platform for project collaboration, ideation and execution that will take your innovation performance to the next level?
MINITAB'S New Project Ideation and Execution Solution
Meet Minitab EngageTM, the only solution designed to start, track, manage and share innovation and improvement initiatives from idea generation through execution.
Minitab's latest end-to-end improvement solution enables organizations to accelerate their digital transformation by providing a unique platform to start and manage value creating projects and innovation. Minitab Engage enables organizations to collect ideas via a virtual suggestion box, gain sponsorship and execute on them, and measure success with KPI and ROI dashboards.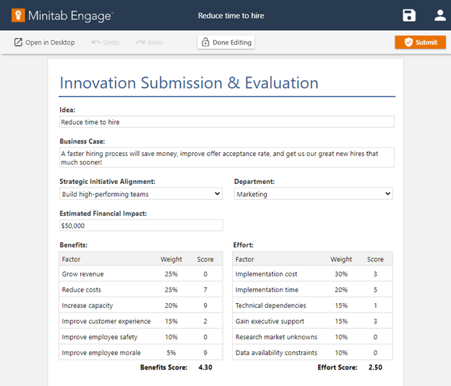 Innovation Submission & Evaluation form in Minitab Engage
Now that your organization's ideas are collected and projects executed, you can evaluate how those projects lead to successful digital transformation.

As Minitab's President and Chief Executive Officer, Jeffrey T. Slovin, said:
"[With the addition of Minitab Engage] to our portfolio of Solutions Analytics™, Minitab is now the only company that can assist companies on their entire digital transformation journey, from ideation to execution, leveraging the power of data collection, data analysis, proven problem-solving methodologies and visual tools to ensure a successful business transformation."
Whether challenging an organization to innovate in a certain way, targeting areas of improvement like digital transformation or simply looking for good ideas, Minitab Engage expedites the innovation process from ideation through execution.

READY TO INNOVATE WITH MINITAB ENGAGE?
Watch our webinar to learn more about this end-to-end improvement solution.
Sources: