Failure mode and effect analysis (FMEA) is a common methodology used in manufacturing and engineering to identify all possible failures in a design, a manufacturing or assembly process, or a product or service.
While its origins lie in the military, over time the automotive industry has set the standard for FMEAs. As a result, many other industries have adopted – and continue to follow – the automotive industry's risk analysis best practices.
Interested in learning more about FMEA methodology and its benefits?

For years, the automotive industry quality standard guidelines have been provided by two leading organizations: the Automotive Industry Action Group (AIAG), based in the United States and the Verband der Automobilindustrie (VDA), based in Germany.
The increasingly globalized economy has made it is easier than ever for manufacturers to source supplies and components from anywhere in the world. But having two sets of FMEA methodologies mired the industry in inefficiencies that detracted from its progress. For example, suppliers serving manufacturing customers in both North America and Germany were required to conduct different assessments for the same parts depending on where those parts would be used. Similarly, when manufacturers audited their different suppliers, they received different scoring systems depending on geography. This made it challenging and time-consuming to compare supplier practices and, more importantly, to assess risk!
Overall, having two sets of "standards" led to confusion and added complexity to product development and process improvement activities for suppliers and manufacturers around the world.
AIAG-VDA FMEA Key Changes
In 2019, the US-based AIAG and German-based VDA worked in collaboration to provide consistent direction and guidance for automotive suppliers by establishing a standardized version of the FMEA process, which emphasizes prevention and prioritizes risk reduction. The result is a single scoring table designed to meet manufacturers' requirements across the industry, thus alleviating the risk of confusion and reducing duplication of efforts. This international, common set of guidelines allows suppliers to manage a single FMEA process, knowing it will meet the needs and expectations of all their customers, everywhere in the world.
In contrast to the previous, regional manuals, in which the severity, frequency of occurrence, and detectability of problems were all weighted equally, the new scoring framework established a hierarchy. Moving forward, the greatest weight is placed on the severity of the problem, then the frequency of occurrence, and finally the detectability. In other words, the new methodology prioritizes addressing severe issues, even if they occur relatively infrequently and are easy to detect, over less dangerous problems that may occur more often or are more difficulty to detect.
The AIAG-VDA collaboration established a new 7-Step approach for FMEA development, which can be split into three categories.
Steps 1 to 3 are about system analysis:
planning and preparation

structure analysis

function analysis
Steps 4 to 6 are focused on failure analysis and risk mitigation:
failure analysis

risk analysis

optimization
Step 7, the last step addresses risk communication by documenting results.
Below is a prereview the Design Failure Mode Effects Analysis (DFMEA) template form available in Minitab Workspace® and Minitab EngageTM, which was created to support the newest AIAG-VDA FMEA framework. A Process Failure Mode Effect Analysis (PMFEA) template is also available in both products. Note that while there are obviously methodological differences between using a DFMEA and a PMFEA, both incorporate the AIAG-VDA FMEA 7-step approach.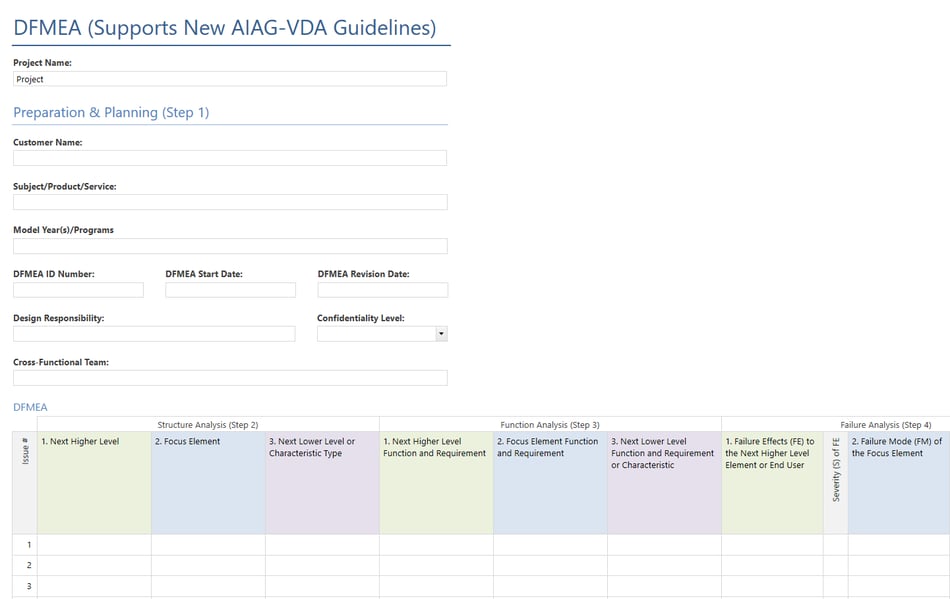 How Minitab's AIAG-VDA FMEA Templates Can Help
Automotive suppliers using FMEAs must be thoughtful and thorough during implementation of the newest AIAG-VDA FMEA methodology, paying attention to both its revised scoring framework, as well as its changes to approach and terminology.
Overhauling FMEAs requires time, understanding, and effort, but by leveraging the expertly designed DFMEA and PFMEA form templates available in Minitab Workspace® and Minitab EngageTM, you can update your risk analysis processes with the confidence of knowing that your FMEAs align with the latest industry standards.
Ready to try out the AIAG-VDA FMEA template in Minitab Workspace?