Master Black Belt in Six Sigma for Molex, Deirdre Hynes, spoke at the Minitab Insights event in Dublin, with Rolls Royce and Hitachi. Read how a new transformation program helped Molex to 10x improvements and watch highlights from the event.
You might have heard of the psychological idea called the '7-Year Itch,' which suggests that people's happiness with something can decline after seven years.
Yet seven years since becoming a Master Black Belt in Six Sigma for Molex, Deirdre Hynes is bursting with excitement to talk about her company's latest transformation program - which achieved ten times the improvements in 12 months in recent projects. "I feel re-energized," says Deirdre, who became a Master Black Belt in 2011 and is now Global Performance Improvement Leader for the business. What excites her are the "new methodologies we've added to our portfolio" and "what Molex thinks their teams are doing differently."
For the first time, an audience heard Deirdre share the secrets of Molex's success at the Minitab Insights event in Dublin on 6 November. Her presentation lit up the room with questions and ideas.
Here, we uncover what her peers need to know to replicate Deirdre's and Molex's continuing passion - and successes – from the pursuit of Operational Excellence.
---

Stay Up to Date on Minitab Insights events: Interested to join other product and process excellence professionals to learn best practices at Minitab Insights events around the world? Learn More >

---
The secret in your smartphone
You may not know the name Molex but if you own a mobile phone then you have probably benefited from some of their connector technology.
The company's Six Sigma journey began when Nokia selected Molex as a business partner, which required several staff to attend its Six Sigma training for suppliers.
Deirdre was then a Quality Engineer at Molex's Ireland site. She volunteered to attend the training and in 2001 became one of the company's first Black Belts.
From reluctance to love
Molex started a global program in 2008 with Six Sigma and Lean Transformation. Minitab Statistical Software became Deirdre's new friend for the analytical part of the projects she was executing.
While there was some reluctance to adopt statistical techniques at the beginning of the journey, "Minitab is now considered the go-to tool and is loved in training because it is intuitive," says Deirdre.
As a Molex global coach for Lean Six Sigma, "I'm on the production floor one day and the next day across multiple departments and sites," says Deirdre. In this role she now uses and teaches Minitab Statistical Software on a regular basis.
With this global experience, Deirdre has a clear view on what enables success: not to be blinkered in your approach, to have some discernment on the methodology to be used depending on the problem to be solved or improvement to be unlocked.
Huge benefits unlocked by new program of Value Stream Transformation
Is the suggestion of keeping your mind open taking us back to the "7-Year Itch"; is Molex now moving away from Six Sigma?
"Molex is not getting rid of Six Sigma," says Deirdre. "We are just adding to our portfolio new methodologies and capabilities. The Value Stream Transformation Program is one of the ways we are evolving in Operational Excellence and it has had a very positive impact on Safety, Quality, Delivery and Costs.
In one year, this program brought huge benefits from focusing on value stream mapping, mixed models and shared resources."
Deirdre shared the details of this program at the recent Minitab Insights Europe Conferences event in Dublin and the feedback from the audience was incredible.
Operational Excellence is the destination, not a path
Several key factors have driven the success of this Value Stream Transformation program. First, everyone in Molex knows Operational Excellence is the destination and "an organization can use all the paths to reach that destination - whether TQM, Six Sigma, Lean, etc." says Deirdre.
"Sometimes you need Lean, sometimes you need Six Sigma, most importantly you use common sense and choose depending on priorities and changes needed."
Second, the program provides a clear recipe of principles and guidelines, backed by supportive training and coaching. This includes workshops with all the departments involved in the Value Stream addressed. Each Value Stream is identified and scrutinized for optimization opportunities.
Don't use the same hammer to fix everything
The next factor of success is that, even as a Master Black Belt, Deirdre understands she has to "learn everyday about applications of the tools, to learn from others, to reveal other possible solutions. Accept the fact no one has got all the answers and success comes from team work."
Key challenges for continuous improvement initiatives to succeed are being able to distinguish the between what is "non-negotiable and nice to have; what you know and what you need. Just because you know how to use a hammer, you will not use it every time where you have to fix something".
Involve the people in the process
Deirdre also stresses that critical to success is "to involve people working on a process on a daily basis" when analyzing the situation, to view it from different angles and list full options rather than "getting a group of managers to work on a solution".
"Working through projects, sharing what worked well, learning from the failures" all help to give that experience and understanding of the tools that can fix the job.
Pain is normal!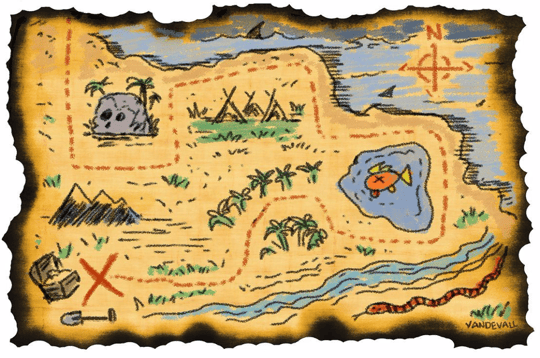 It is perhaps a surprise to hear the main message that Deirdre wanted to share at the Minitab Insights conference:
"One of the takeaways for participants will probably be the reassurance that what they are doing is great, that all the pain they are going through is normal!"
Indeed, the opening image of her Minitab Insights presentation was a treasure map (see above), and she describes the evolution of Operational Excellence as "an adventure."