If you're reading this, you've probably painstakingly put together a PPAP once or twice and are frustrated with the lack of tools to help you - or are staring at a request for one and don't know where to start. Have no fear! Minitab now enables you to create and manage a PPAP (following AIAG guidelines) painlessly while providing a polished end product that will please your customers.
What Does PPAP Mean and How Many Documents are in the PPAP?
For those of you asked to prepare a "PPAP," or Production Part Approval Process, it is a standard process defined by the Automotive Industry Action Group (AIAG) for submitting process and product information to customers and obtaining customer approval to ship products. PPAP is typically required by customers around the production of new parts or changes to products or processes involving design, materials, supply, function, method, tools, location, and inspection criteria.
Watch Now: Minitab Workspace Tips & Tricks to Accelerate Your Work
PPAP is made up of a collection of documents which need to be collected and compiled when providing a part for a customer. According to the AIAG there are 18 elements in a PPAP. These are comprised of different documents, some of which need to be submitted to customers, others which need to be kept on hand to be submitted if required.
What Are The 18 Elements of PPAP?
Rather than list them, have a look at the screenshot from Minitab Workspace.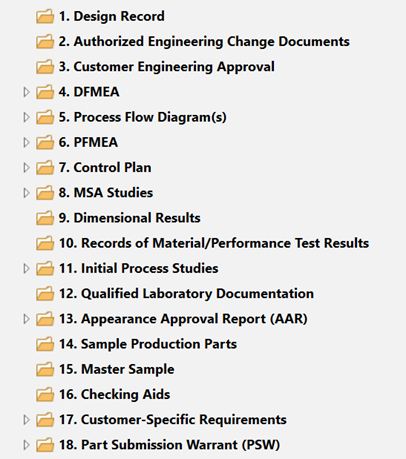 You're Not Alone. Most Folks Have Challenges Completing a PPAP
As you already know, a PPAP requires a significant amount of documentation and organization. Equally importantly, you need collaboration from folks across the organization. Last but not least, you need time to plan and manage the entire project.
Where does all the time go? Many of us need to create in-house documents or even worse, scour the internet for downloadable templates that prove to be unstable, out of date, or unprofessional. A filing system is needed for two purposes: to enable collaboration across your company and to keep everything organized. When a customer requests documentation about your supply, they expect a response quickly. The time it takes to get back to them could be the difference between them using your product versus a competitor's or impact the timing of the next order they place with you. When a quality systems auditor wants to see the PPAP documents (they will typically randomly select some product). If you are scrambling to find everything, the likelihood of getting a finding goes way up. They may even ding you because it's not well organized. If you've got it all together, you present yourself far better.
A file system must also be readily available to your counterparts providing documentation for the PPAP so critical reports don't get lost in a sea of emails or housed in silos, making tracking down the information more difficult and time consuming.
How Can Minitab Help Make Your PPAP Process Painless, Polished and More Pleasing to Customers?
Minitab's PPAP Solution eliminates a significant amount of the pain of the PPAP by providing stable templates (built under AIAG guidelines) and an organized workflow to complete a PPAP. Housed in one area, the project manager can save all the documents in an easy and organized way.
The polish comes from the fact that your templates will look consistent and from Minitab, the market leader in quality for over 50 years. Your customers know Minitab, trust Minitab and leverage Minitab's solutions to check the quality of their products and process. They will be getting PPAPs from you that look and feel professional and complete.
The pleasing comes with the consistency you provide for your customers. As Minitab customers, you can simply send them the PPAP project for them to leverage as they wish. If you prefer to send it to them piece-meal, no problem: in Workspace, it's easy to quickly export all the documents, forms, and tools to PDF or Microsoft Word.
Giving them consistent documentation from across your organization makes checking the information faster and easier for them. Making your customers life easier will make you stand out from your competitors. Make your PPAP another reason why doing business with you is easier, and you'll reap the rewards in the form of bigger orders and more opportunities to supply parts and components.
Elevate your work with the ultimate PPAP toolkit - Try Minitab Workspace for Free!