Earlier this year, as I was thinking about all the improvement projects on my needs and wants list, I was unsure where to start. Which projects should be tackled first? Did I capture everything in my potential projects list? And once I decide which projects to schedule, how can I keep on track and visualize progress?
Not every problem requires a statistical solution, so I didn't use Minitab Statistical Software to tackle the task. Instead I reached for the visual toolkit in Workspace.
Minitab Workspace has all the visual problem-solving tools to help me organize my ideas, prioritize those ideas based on criteria that I set, and visually track progress towards projects that are scheduled. In this post, I'll show you the tools I used to help me sort out my home improvement project ideas.
Try Minitab Workspace Free for 30 Days
It all starts with brainstorming in an Idea Map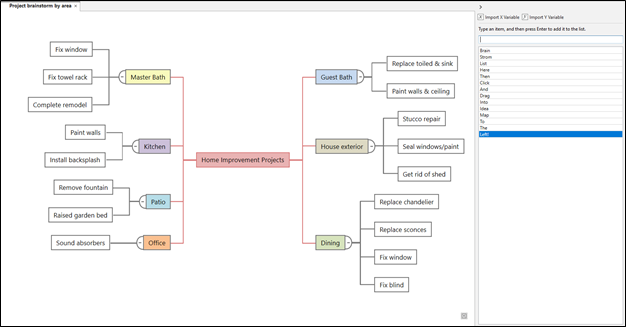 I used an Idea Map to organize all my project ideas. In my Idea Map, the affinities are the rooms I want to remodel, and the branches represent the project ideas for each room.
In Workspace, I can make a quick list in the task pane on the right side of the application, then click and drag my ideas to organize them on the map. Having all my ideas logically arranged in one place helped me think of a few other things that were almost left out! Thanks, Workspace!
Next I needed to evaluate project ideas in a structured, consistent, quantitative way, with the Project Prioritization Matrix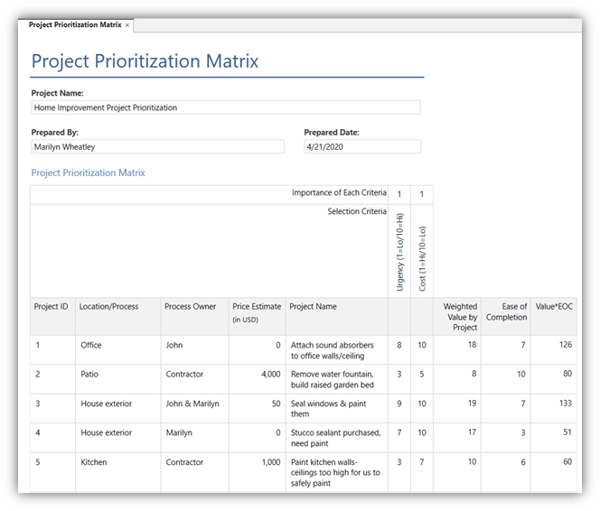 To get started deciding which projects to schedule first, I listed the projects and who would be responsible for completing each. Because they varied in cost and complexity, some of the projects would be assigned to me, some to my husband, and some of the work would require a contractor.
Using Workspace's Design Mode and the out-of-the box Project Prioritization Matrix, I customized some of the fields, like the Price Estimate, to track the information that is relevant to my specific situation. I ranked each idea based on my evaluation of the Urgency and Cost and used these inputs as my Selection Criteria. I also ranked each project based on the Ease of Completion.
Workspace automatically calculated the Weighted Value by Project based on my Selection Criteria, then incorporated my ranking of the Ease of Completion to calculate the Value by EOC (Ease of Completion) in the matrix. The results from the matrix above are displayed as a series of graphs show below, to help me decide which projects to schedule first.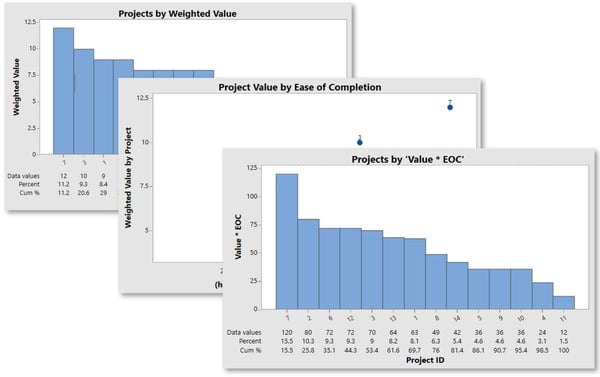 The project identifier at the bottom of each bar in the Projects by 'Value*EOC' chart made it easy to see which projects should be scheduled first.
Now that I know which projects I want to tackle first, need to start scheduling.
And now, planning and scheduling the work! Enter the Gantt Chart.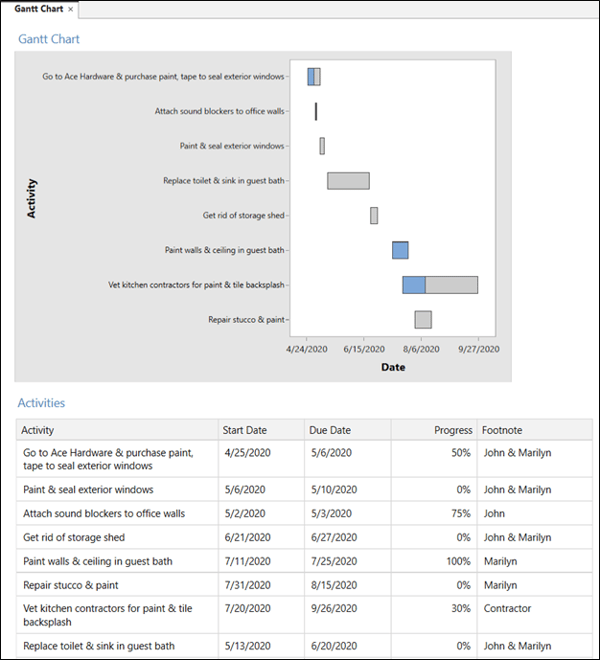 The Gantt Chart in Workspace helped me establish a graphical timeline for advancing my projects, and helped me visualize the progress made on each project. I just filled in the activities table, and Workspace dynamically updated the Gantt Chart.
To see how the visual problem-solving tools in Workspace can help your keep organized and elevate your work, you can download the trial version of Workspace.