As Halloween festivities near, you can customize your Minitab interface to match the season. I know, it's corny -- but here's how:
1. Edit your Session Window Fonts!
a) Go to Tools->Options. Then go to Session Window, and expand the + sign to see more options.
b) Change your Title Font and Comment Font to 'Chiller'. You may increase the size of the font if you wish.
Example of Session results from an I-MR Chart and the beginning title for an Individual Value Plot:
Oooooooooo…Will these data points SURVIVE after you've analyzed your data for special causes???? Hopefully this data cleanup isn't too messy for you! Woohahaha!
2. Change the font and colors of your graphics!
a) Go to Tools->Options. Then go Graphics, and expand the + sign to see more options.
b) Under Region, you can change the appearance of the elements that make up the graph. For 'Graph,' I chose the
color orange. For 'Figure,' I chose a deep black.
c) You can also change the font and colors for other elements within Graphics, such as the Data View, Frame Elements,
and Annotation. Go in and have fun!
Example of a Scatterplot, found under Graph->Scatterplot: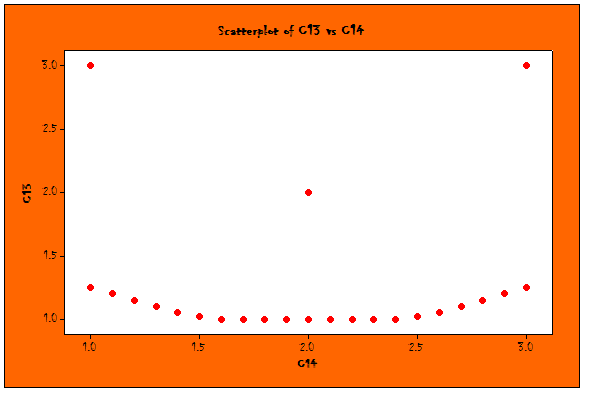 What ghoulish face could this be?
3. Edit your graph names to give them a Halloween-ish feel!
a) Go to Tools->Customize. Then open a menu, like Graph, right-click on an item, and choose Rename!
For example: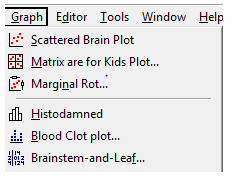 Of course, the ultimate in decoration would be the configuration of your OS so that the windows themselves are using colors most associated with Halloween.
If you want to pass along your customizations to others, you can do so by going to Tools->Manage Profiles. Make sure your profile is under 'Active Profiles', and choose to 'Export.'
While we're using the Halloween holiday to have a little fun, the bigger point is that you can tailor Minitab to meet the way you like to work! I hope you learned some new tips about customizing Minitab from reading this -- and that you have a safe and happy Halloween!