Minitab 17 came out yesterday and it's got quite a few neat features in it. You can check some of them out on the What's New in Minitab 17 page. But one of my very favorite things is related to one of my previous blog posts that showed how to make histograms that are easy to compare. Turns out, you don't need those steps anymore. You can do it all with Minitab's Assistant.
Here's how to open the data that I'm using if you want to follow along.
Choose File > Open Worksheet.
Click Look in Minitab Sample Data Folder.
Select Cap.MTW and click Open.
You can still rearrange a paneled histogram to make the groups easy to compare. But with Minitab 17, you can get histograms that are easy to compare right from the Assistant.
In Minitab 17, choose Assistant > Graphical Analysis.
Click Histogram.
In Y column, enter Torque.
In X column, enter Machine. Click OK.
You just cut in half the number of steps you need to get histograms that are easy to compare.
Not only are the histograms arranged in a way that makes comparisons easy, but the Assistant's Diagnostic Report reminds you about some of the important differences you can see. Do the data have the same center? Do the data have the same variability? Do both the center and variability differ?
In this case, it looks like the center and variability both vary between the groups.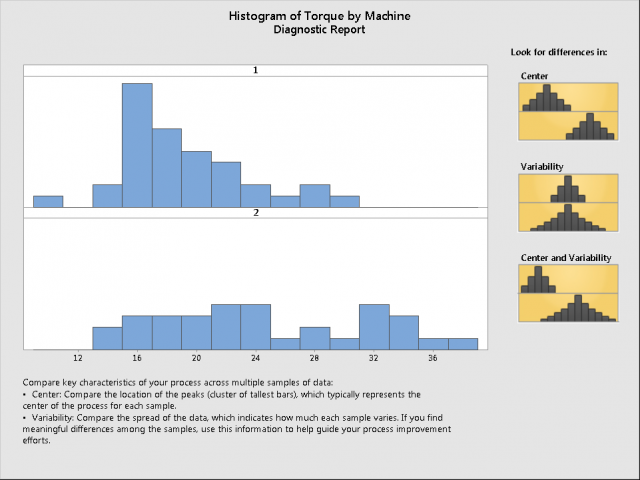 By the way, that Diagnostic Report is also new in Minitab 17. Additional new features in the Assistant in Minitab 17 include Design of Experiments (DOE) and multiple regression.
Want to see more about what the Assistant can do in Minitab 17? Check out these Quick Start exercises that will help you to become a fearless data analyst.