We hosted our first-ever Minitab Insights conference in September, and if you were among the attendees, you already know the caliber of the speakers and the value of the information they shared. Experts from a wide range of industries offered a lot of great lessons about how they use data analysis to improve business practices and solve a variety of problems.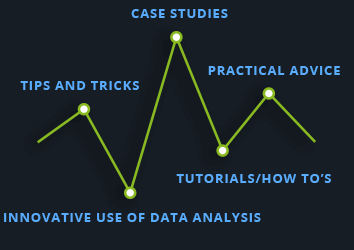 I blogged earlier about five key takeaways gleaned from the sessions at the Minitab Insights 2016 conference. But that was just the tip of the iceberg, and participants learned many more helpful things are well worth sharing. So here are five more helpful, challenging, and thought-provoking ideas and suggestions that we heard during the event.
Improve Your Skills while Improving Yourself!
Everyone has personal goals they'd like to achieve, such as getting fit, changing a habit, or writing a book. Rod Toro, deployment leader at Edward Jones, explained how challenging himself and his team to apply Lean and Six Sigma tools to their personal goals has helped them better understand the underlying principles of quality improvement, personalized learning and gain deeper insights, and expanded their ability to apply quality methods in a variety of circumstances and situations.
We Can't Claim the Null Hypothesis Is True.
Minitab technical training specialist Scott Kowalski reminded us that when we test a hypothesis with statistics, "failing to reject the null" does not prove that the null hypothesis is true. It only means we don't have enough evidence to reject it. We need to keep this in mind when we interpret our results, and to be careful how we explain our findings to others. We also need to be sure our hypotheses are clearly stated, and that we've selected the appropriate test for our task!
Outliers Won't Just Be Ignored, So You'd Better Investigate Them.
We've all seen them in our data: those troublesome observations that just don't want to belong, lurking off in the margins, maybe with one or two other loners. It can be tempting to ignore or just delete those observations, but Larry Bartkus, senior distinguished engineer at Edwards Lifesciences, provided vivid illustrations of the drastic impact outliers can have on the results of an analysis. He also reminded us of the value in slowing down our assumptions, looking at the data in several ways, and trying to understand why our data is the way it is.
Attribute Agreement Analysis Is Just One Option.
When we need to assess how well an attribute measurement system performs, attribute agreement analysis is the go-to method—but Thomas Rust, reliability engineer at Autoliv, demonstrated that many more options are available. In encouraging quality practitioners to "break the attribute paradigm," Rust detailed four innovative ways to assess an attribute measurement system: measure an underlying variable; attribute measurement of a variable product; variable measurement of an attribute product; and attribute measurement of an attribute product.
Minitab Users Do Great Things.
More than anything else, what we took away from Minitab Insights 2016 was an even greater appreciation for the people who are using our software in innovative ways—to increase the quality of the products we use every day, to raise the level of service we receive from businesses and organizations, to increase the efficiency and safety of our healthcare providers, and so much more.
Watch for more stories and ideas from the the Minitab Insights conference in future issues of Minitab News, and on the Minitab Blog.