If you were among the 300 people who attended the first-ever Minitab Insights conference in September, you already know how powerful it was. Attendees learned how practitioners from a wide range of industries use data analysis to address a variety of problems, find solutions, and improve business practices.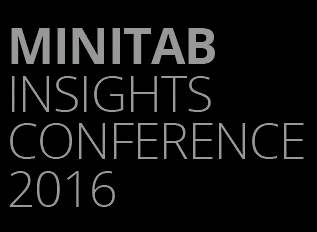 In the coming weeks and months, we will share more of the great insights and guidance shared by our speakers and attendees. But here are five helpful, challenging, and thought-provoking ideas and suggestions that we heard during the event.
You Can Get More Information from VOC Data.
Joel Smith of the Dr. Pepper Snapple Group used the assessment of different beers to show how applying the tools in Minitab can help a business move from raw Voice of the Customer (VOC) data to actionable insights. His presentation showed how to use graphical analysis and descriptive statistics to clean observational VOC data, and then how to use cluster analysis, principal component analysis, and regression analysis to make informed decisions about how to create a better product.
Consider Multiple Ways to Show Results.
Graphs are often part of a Minitab analysis, but a graph may not be the only way to visualize your results. Think about your audience and your communication goals when choosing and customizing your graphs, suggested Rip Stauffer, senior consultant at Management Science and Innovation. He showed examples of how the same information comes across very differently when presented in various charts, and when colors, thicknesses, and styles are selected carefully. Along the way, he also illustrated Minitab's flexibility in tailoring the appearance of a graph to fit your needs.
Quality Methods Make Great Sales Tools.
We hear all the time about the impact of quality improvement methods on manufacturing. But what about using statistical analysis to boost sales? Andrew Mohler from global chemical company Buckman explained how training technical sales associates to use data analysis and Minitab has transformed the company's business. Empowering the sales team to help customers improve their processes has enabled the company to provide more value and to drive sales—boosting the bottom line.
Data-Driven Cultures Have Risks, Too.
In the quality improvement world, we tend to think that transforming an organization's culture so everyone understands the value of data analysis only brings benefits. But Richard Titus, a consultant and adjunct instructor at Lehigh University who has worked with Crayola, Ingersoll-Rand, and many other organizations, highlighted potential traps for organizations with a high level of statistical knowledge. These include trying to find data to fit favored answer(s); working as a "lone ranger" independent of a team; failing to map and measure processes; not selecting a primary metric to measure success; searching for a "silver bullet;" and trying to outsmart the process.
When Subgroup Sizes Are Large, Use P' Charts.
T. C. Simpson and M. E. Rusak from Air Products illustrated how using a traditional P chart to monitor a transactional process can lead to problems if you have a large subgroup size. False alarms or failure to detect special-cause variation can result from overdispersion or underdispersion in your data when your subgroup sizes are large. You can avoid these risks with a Laney P' control chart, which uses calculations that account for large subgroups. Learn more about the Laney P' chart.
Watch for more stories, tips, and ideas from the the Minitab Insights conference in future issues of Minitab News, and on the Minitab Blog.