This week is the annual Thanksgiving holiday in the United States, a period where we are encouraged to eat turkey and cranberries, then consider the blessings in our lives before falling into a comfortable pre-football nap. That includes many of us here at Minitab.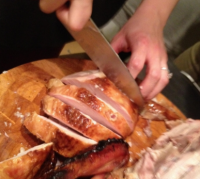 Consequently, we won't have new posts for you over the next two days. But one of the things I'm grateful for is having had the opportunity to write for and edit the Minitab Blog for the past four years. I realized that we've done a number of gratitude- and thanksgiving-related posts in that time. I thought I'd send us into the holiday season with a roundup of how our Minitab bloggers have celebrated with statistics and data.
Carly Barry discussed how she applies Lean tactics to optimize time spent in the kitchen when cooking Thanksgiving dinner. For those who are involved in feeding very large groups of people, she also detailed how the crew responsible for organizing and executing Minitab's company-wide thanksgiving celebration uses value stream mapping and other methods to feed a big gathering quickly and efficiently.
Many of our bloggers have looked at their own eating habits on this occasion—Cody Steele, for instance, tracked his pie-related activity using bar charts. Still others turned their attention to the statistical methods that they were most grateful for, including Patrick Runkel, who explained why he's grateful for the Regression menu in Minitab.
Jim Frost turned a more somber eye to data about income levels around the world and detailed his analysis and reflections in a great two-part blog post: Part 1, Part 2.
And for those whose Thanksgiving experiences are inextricably linked with football, Kevin Rudy has penned a cornucopia of insightful posts that illustrate how analyzing data teaches us more about the United States' favorite game.
Whatever you'll be doing this Thanksgiving, all of us at Minitab hope it finds you happy and healthy!