After my husband's most recent visit to the dentist, he returned home cavity-free...and with a $150 electric toothbrush in hand.
I wanted details.
It began innocently. His dreaded trip to the dentist ended in high praise for no cavities and only a warning to floss more. That prompted my programming-and-automation-obsessed husband, still in the chair, to exclaim, "I wish there was a way to automate this whole process—the brushing and the flossing."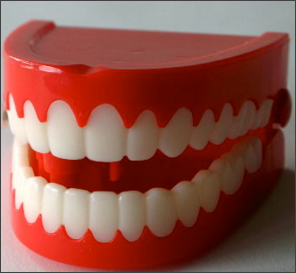 Next thing you know, he's swiping the credit card (to "earn miles for our next flight," he says) and walking out with a nice Philips Sonicare DiamondClean Sonic Electric Toothbrush.
From this anecdote, you'd think I was sitting beside him as his teeth-cleaning proceeded. I merely received the story secondhand from our dental hygienist the very next day when I went in for my own visit. But I digress.
When my husband exclaimed his desire to automate a process that very few humans enjoy doing, our dentist was pleased to tell him that this toothbrush comes close. Granted, the toothbrush can't completely automate these tasks: it still requires the user to be present. However, our dentist offered the following points to consider:
The toothbrush does most of the brushing for you (with the exception of moving your hand so that you brush all your teeth).
The bristles automatically move, reaching crevices between teeth that no manual tooth-brushing ever could.
Because of point #2, plaque buildup will decrease and gum health will improve.
Because of point #3, flossing won't be a strict daily requirement.
Sold.
The dentist's points give us a nice framework for thinking about automation. An automated solution might not be perfect. But an automated solution should:
a. make a task easier and more efficient (brushing hard-to-reach places more effectively)
b. require less of your time (reduces the need to floss daily), and
c. save you money (better tooth and gum health and fewer fillings equates to cost savings).
Who wouldn't buy into that idea?
Automated solutions can turn feelings of boredom over performing tedious tasks into feelings of excitement. Why? Because automation removes the need to perform repetitive tasks that we know how to do but might not particularly enjoy, helps us see results faster, and incites us to implement change sooner. This can translate into business efficiency and increased profit.
The mere idea of automating the task of brushing teeth and the results he might experience incited my husband to think about tooth-brushing differently, and prompted the decision to purchase this custom solution (the electric toothbrush) before even implementing it in his daily habits; imagine the changes and process improvements that might occur once the automated solution is in place. Perhaps a report of no cavities for several visits in a row and an extra lump of cash for him to spend on me!
Just as Philips (and other manufacturers) developed an electric toothbrush as a custom solution to automate difficult or tedious aspects of brushing teeth, Minitab has created custom statistical solutions and has automated processes for numerous customers in various industries, including manufacturing, pharmaceutical, medical devices, and healthcare.
Did you know that Minitab is not merely an out-of-the-box statistical software package? Behind the software interface is a powerful statistical and graphical engine that can integrate with a customer's workflow and provide a unique solution tailored to that customer's industry-specific problem. Minitab's engine can communicate with a customer's databases, applications, and other programs such as Excel, in order to automatically perform analyses and provide output relevant to the customer's needs.
One interesting example that comes to mind is a project our custom development consultants tackled for a pharmaceutical company. This company was responding to an FDA warning letter and needed to assess the quality of hundreds of active ingredients in a particular drug. They needed to analyze data collected for each ingredient using Minitab's capability analysis tool, and create a report detailing the result of the analysis in order to show the FDA that their drug was stable and safe for consumption—but they needed to perform the same analysis and create the same report hundreds of times over.
Our custom development consultants used Minitab's engine to access the customer's data in Excel, automatically perform capability analysis on each active ingredient in the drug, and create custom reports detailing the quality level of each ingredient and a few additional pieces of output that the FDA wanted to see. Automating this work saved a tremendous amount of time, energy, and money, and ultimately helped the pharmaceutical company respond to the FDA warning letter in a timely manner.
My hope is that after reading this blog post, you see the relevance and value of automation—whether brushing your teeth, performing the same statistical analyses, or creating custom reports. And the power of automation extends far beyond these simple examples! So if I've piqued your interest, stay tuned for Part 2 of this series to hear more lessons learned by my husband in his automation endeavors!