The Minitab Fan section of the Minitab blog is your chance to share with our readers! We always love to hear how you are using Minitab products for quality improvement projects, Lean Six Sigma initiatives, research and data analysis, and more. If our software has helped you, please share your Minitab story, too!
An Analysis of Road Accidents in Hyderabad, India
The data taken for this study is obtained from the official website of Hyderabad Traffic Police (http://www.htp.gov.in/Default.htm). Also note that the data for 2014 covers only the period until April.
Reviewing the time series plot I obtained using Minitab Statistical Software indicates that the number of accidents steadily decreased every year from 2011-2013, but there seems to be a rise from January-April 2014.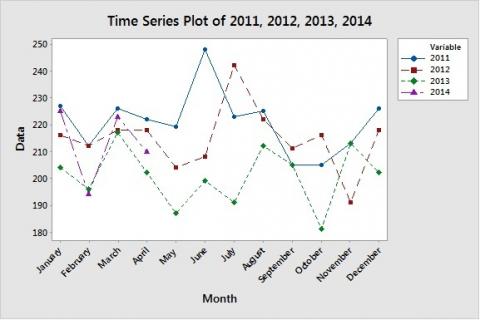 As I was brought up in city of Hyderabad, my experience has been that the following factors influence road accidents here:
Increasing vehicle population leading to heavy traffic during peak hours
Drunken driving
Speed limit violation
Lack of properly laid roads
Violation of traffic and safety rules
Roads getting water logged during rainy season
Using cell phone while driving
Not wearing seat belts
Unwanted hurrying/negligence of the driver
Inattention while backing the vehicle
Not getting clear picture of surroundings—lack of signage
Using high beam light
Driving without a helmet
Speed driving on the flyovers and the Outer Ring Road
Tripping of heavy load vehicles in the city during the day time
Following is a time series plot of the 852 accidents that took place from January-April 2014 according to the days of the week. This graph clearly indicates that the number of accidents occurring over the weekends is high.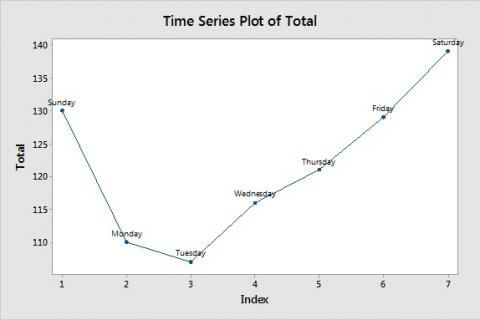 The increase in the number of accidents over the weekend is a serious concern which requires attention since these accidents may be preventable by awareness campaigns targeted to the youth of the city.
Conclusion
Based on the results of the above analysis, preventive actions that I believe could be taken by the concerned authorities are:
Make citizens aware of the importance of strictly adhering to the traffic rules, and impose fines on those who do not abide by them.
Issue driving licenses only as per age limits, and only after the person clears all the tests.
Inspect vehicles to make sure they are road-worthy.
Increase the number of traffic police in areas of heavy traffic.
Make sure the timers installed at traffic signals function properly.
Analyze the major accident-prone areas scientifically to reduce the rate of occurrence.
Check medians, footpaths, and curvatures carefully.
Use paint to clearly mark humps on the roads.
Remove attention-seeking boards, banners, and advertisements.
Dhatry Yaso Kala
Independent Consultant and Lean Six Sigma Black Belt
Hyderabad, India