Business has changed drastically over the past year due to the pandemic. Seemingly overnight, companies transformed their operations to continue in this new world where virtual is suddenly very necessary. All said and done, companies "accelerated the digitization of their customer and supply-chain interactions and of their internal operations by three to four years" according to a recent McKinsey & Company report.
Prior to the pandemic, a Deloitte report found the financial services sector was very inconsistent in regards to their digital transformation, which was partially due to both customers' willingness to adopt and firms' willingness to invest. COVID-19 completely upended those conventions quickly in only a matter of weeks. During COVID-19, Deloitte reported that "35% of customers have increased their online banking usage", while PNC Bank's "sales jumped from 25% digital to nearly 75% digital" and have condensed "10 years' worth of changes into two months".
Digitalization is here to stay and automation is one way to keep up with this new demand. At Minitab, we understand that business leaders have limited time available to investigate new solutions and tools that can help solve their problems. Minitab has helped business leaders visualize and analyze their data for nearly 50 years. As we see companies striving to solve more, faster with automation, we draw on our approach of solutions analytics and empower leaders with the ability to make their best data-driven decisions. When executed well with Minitab by your side, automation can increase customer engagement and bolster sales as long as it accurately anticipates situations, and leverages proper triggered processes to address them.
Let's take a look at two practical examples about how automation and harnessing data analysis in Minitab Statistical Software can help enhance your customers' experience.


Example #1: Increase Cross-Selling Opportunities at a Call Center
The Goal
Identify customers likely interested in cross-selling opportunities.
The Challenge
Most call centers use interactive voice response (IVR) systems to service high call volumes at a lower cost. The IVR routes callers to an automated system or a live agent for the resolution of their query.
If you can identify which customers have the propensity to buy other products, you can alter the IVR system to route these customers to live agents.
The Solution
Using predictive analytics like Classification and Regression Trees (CART®), analysts can:
Detect commonalities in the profiles of customers who do or do not buy additional products

Anticipate the IVR actions that differentiate typical customers who will buy additional financial services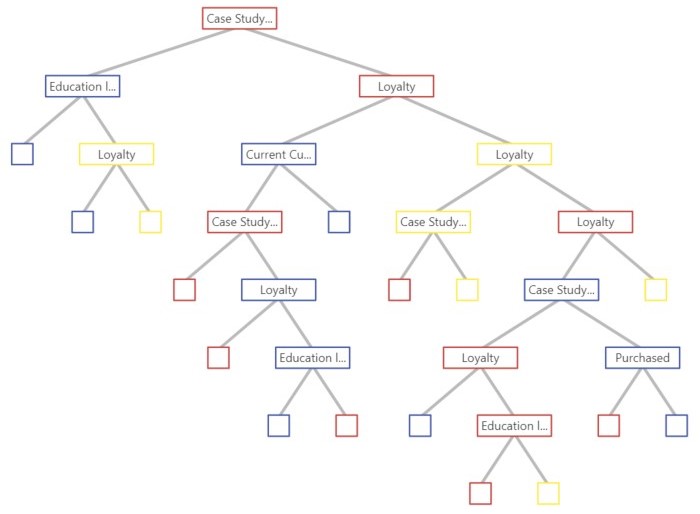 Using CART analyses, like in the figure above, a bank can determine which customer segments or "nodes" are two to three times more likely to purchase more products.
The Outcome
By automatically routing customers who are statistically verifiable as most likely to take advantage of cross-selling opportunities and make additional purchases to a live agent, agents make more sales faster and spend more time servicing valued customers making further purchases.
Another opportunity is created here as well where the IVR can be adjusted to ensure that other customers who are not interested in further purchases can have their queries resolved without the intervention of a live agent.

Example #2: Grow Customer Spending on a Credit Card
The Goal
Develop a low-cost benefits program that increases customer spend on a credit card without increasing risk.
The Challenge
Most consumers have a number of credit cards. Card providers want to have the #1 position in the wallet. To achieve that coveted spot as the consumer's preferred card, you have to find the right combination of benefits that the consumer will value enough to increase their spend and borrowing on the card.
The Solution
Design of Experiments (DOE) is an approach that allows you to quickly and effectively determine the impact of key drivers on a process.
Minitab Statistical Software's DOE platform allows you to create, analyze and optimize several different customer benefits (rewards programs, longer payment periods, and lower interest for different time periods), targeted at increasing spend without increasing delivery costs. The tool even includes optimization capabilities that allow you to balance spend, minimize benefit costs, and decrease credit risk.


"Typically, you hear of DOE and other statistical methods being utilized in manufacturing,
but there's really no limit to where the technique can be employed. Once we understood the principles of DOE,
we realized we could also apply it to our service processes."

- Financial Brokerage Firm & Minitab Customer

The Outcome
By optimizing and generating a list of tailored offers and benefits that can automatically be presented to customers, you allow customers to increase their spending without your organization increasing costs or credit risk.
Using tools like DOE to help you make these smart data-driven decisions while also reducing the risk of making changes across the business that could have a negative impact.
Interested in trying CART or DOE in Minitab Statistical Software for yourself?
Automation at the Ready
Understanding your customers and their behavior can be very useful to putting digital and automated measures in place, which can enhance their customer service experiences and ultimately contribute to your institutions' success.
For nearly 50 years, Minitab has helped thousands of businesses and institutions worldwide achieve their vision of success with our comprehensive, best-in-class and easy-to-use suite of data analysis and process improvement tools. Talk to Minitab if you'd like to get started on your data journey and access our integrated approach of solutions analytics.