BACKGROUND
As summer comes to a close, we're all reminded of what arrives in September: the back-to-school season. As a college student, this brings a lot of stressors—the headaches, all-nighters, but most significantly, the feeling of always being crunched for time and money.
As I contemplate the upcoming semester, I'm thinking about how to make my daily life more efficient. Between homework, classes, and work taking up most of my time, how can I manage all my other chores? Cleaning, doing laundry, working out—and where can I fit in time to eat?
A bad habit that I, as a student, share with many full-time workers is forgetting to eat healthy meals during these jam-packed days. We've known since childhood that food is our fuel, yet we consistently find excuses to skip meals or rely on takeout day after day.
With no personal transportation and a tight "college-student" budget, I wanted a solution to this issue. The constant cycle of not preparing and relying on junk food leads to decreased productivity and increased stress. As I mentioned earlier, we struggle to prioritize the meals we need each day, but there are ways to plan ahead and keep our already busy schedules intact.
THE MINITAB SOLUTION
As I considered the process of obtaining sustainable food and preparing meals, integrating these tasks into my daily schedule seemed like a challenge. It was then that I recalled the capabilities of Minitab Workspace and how it could provide a potential tool I could use. Minitab Workspace excels at visualizing processes, identifying opportunities, and ultimately simplifying problem-solving. With all your tools in one place, it is much easier to work more efficiently and understand complex initiatives.
What if, instead of approaching this day by day, I could visualize the entire process of grocery shopping and meal preparation all at once? This is where process mapping, a tool conveniently located within Workspace, comes in.
Process maps help you to see the relationship between inputs and outputs in a process, identify key decision points, and uncover rework loops. I created a flowchart that illustrates and communicates all the steps in a process, highlighting areas where improvements can be made.
My first process map outlined the necessary routine for acquiring all my groceries in one go. With limited transportation options, I needed a structured approach. Rather than randomly going to the store and picking up ingredients I might or might not use, I methodically mapped out the process to make this task seamless.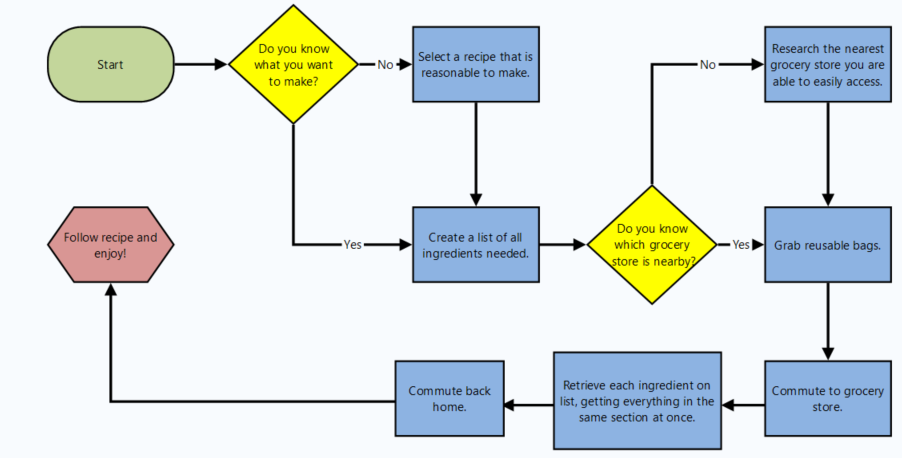 Once I had the groceries necessary for the meals I planned, I was able to map out the next stage of my process. Cooking can be chaotic if you don't know where to start and don't give yourself time to accomplish every step. Fitting it into each day is quite unrealistic with the schedule I have.
However, with a process map in Workspace, I was able to go through each of my recipes to give myself the resources to efficiently prepare my meals for the week. Below is a process map of a recipe of ground turkey tacos that I prepped at the beginning of the week and was then able to eat on my busiest of days.

After mapping out these steps, I identified that a large amount of my time is simply spent getting to the store and gathering all the groceries I need—a process that I have always deemed a necessary chore that I do not look forward to.
What if I was able to stay in my home and have the groceries brought to me? Since I evaluated the groceries that I'll need for the week from my home before going to the store anyways, why not just order them? That way I can save a large amount of time and accomplish the bulk of my task. In addition, mapping out the steps for cooking enabled me to feel like I had everything under control. I knew when to start the next step and how to do so.
Below you can see just how much more efficient it is when it comes to meal prepping when I started to plan and visualize my process. Using line plots in Minitab before and after I started to plan my meal prep, you can see the change in the time it took to prepare meals. As you can see from the descriptive statistics that Minitab generated, it took me on average 1 hour and 40 minutes to prepare and cook my meals before planning and optimizing. After using Minitab to plan my processes and see where I can cut the time, it now takes me on average only 47 minutes to accomplish the same tasks.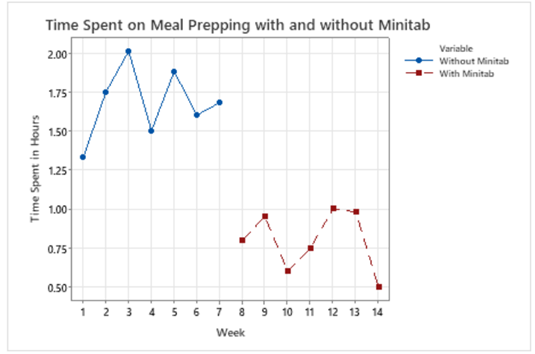 CONCLUSION
Using Minitab Workspace made it easier to understand the process and how to optimize time for meal prepping. Using line plots, located in Minitab Statistical Software, I can easily see how much improvement occurred when I created a controlled and optimized operation.
Whether you are just a college student like me trying to save time or an executive at a major company, Minitab Statistical Software and Minitab Workspace can help map and track processes, making decisions easier in both your personal life and in the business world.
Ready to experience the tools in Minitab Workspace for yourself? Download a free trial now.