When the leadership team at Minitab wanted to surface some new, innovative ways to leverage the power of the tools and forms in Minitab EngageTM, they turned to the most innovative people they know: their employees. By using a targeted approach to achieve its objective, Minitab benefited from the submission of great ideas that not only generated some innovative Minitab Engage use cases, but even led to the addition of a brand-new form that would further differentiate the product.
The Challenge
The Minitab executive team issued a challenge to the entire organization: use the tools and forms in Minitab Engage "creatively in two categories: work related and personal use." The challenge was emailed to all Minitab employees, with a request that they respond with their ideas within 10 days.
The Sponsorship
With the executive team sponsoring the challenge, a steering committee was selected to review the submissions. Based on all the submissions, the steering committee was tasked with presenting the finalists in each category to members of the executive team, who would then determine further actions.
The "Winning" Ideas
Ideas flowed from different departments across the organization – despite the quick turnaround. The steering committee evaluated the various submissions individually on the Minitab Engage platform before meeting to review the ideas as a group. This allowed them to formulate their views ahead of meeting to determine their recommendations. By reviewing submissions in real time, the steering committee was able to expedite the time from ideation to market and cut down on reviewer meetings.
In the personal use category, the winning employee leveraged multiple problem-solving tools, including an idea map, a project prioritization matrix, and a Gantt chart to execute a home improvement project. To read more about it go here: Home Improvement with Minitab Workspace's Idea Map, Project Prioritization Matrix and Gantt Chart
In addition to many innovative ways to use the tools, one employee not only suggested the creation of a new tool, but actually built a prototype of a Harvey Balls Matrix within the Minitab Engage platform.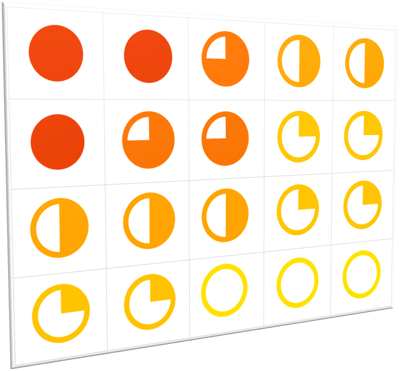 Innovation in Action
By engaging staff members from across the organization, Minitab was able to not only generate multiple innovative ways to leverage the Engage platform, but also got immediate results. Within 6 weeks –from the time the challenge was launched to the next software release – Minitab was able to add the Harvey Balls Matrix, designed by one of their own employees and add another useful problem-solving tool to Minitab Engage. Not surprisingly, innovation begets more innovation – and the Harvey Ball Matrix, now standard with all Minitab Engage deployments, has quickly become a favorite tool to convey project status, critical to driving innovation initiatives. Read our blog to learn more about the Harvey Balls Matrix.
Explore using Minitab Engage in your organization: