Did you know that over 790 million gallons of wine were consumed in the US in 2016? That's a lot of wine — roughly 3,950 million bottles of wine to be exact! Wine production shows no signs of slowing down either with the number of US wineries increasing by over 50% since 2009 to a total of 10,043 wineries in 2019, however Italy, France and Spain still take the title of top three wine producing countries globally. With so much wine being produced worldwide you might think it's really easy to make, but it's truly a science with all the variables involved to achieve a perfect wine.
One of the essential components of wine production is sugar since yeast feeds on grape juice sugar to convert it to alcohol; any remaining sugars affect the sweetness of the wine. A dry wine like Cabernet Sauvignon, Chardonnay or Pinot Noir, for example, can easily turn out poorly due to the incomplete fermentation of too many residual sugars while on the other hand a sweet wine like Moscato, White Zinfandel or Riesling may need sugar added to boost the original residual sugar concentration to achieve the targeted wine taste.
Taste and sweetness varies for everyone though due to our individual detecting thresholds, so quantifiable measurements rather than simply tasting are needed to keep consistency in the wine throughout production. One of the best ways to control and produce consistently balanced wine to specifications however is through statistical quality control.
Don't worry if you don't know where to start — we've pulled together our 4 simple steps to show you how easily statistical quality control can ensure you produce the consistently delightful wine you're looking for.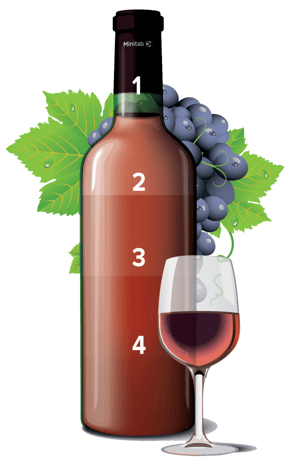 Step 1: Collect Data Points on Residual Sugar
When beginning to look at your wine consistency, you need to first collect data and measure the residual sugar levels in your current wine.
There are a couple techniques to do this including the Rebelein Method or a Reagent-Tablet Test. Both can be used in conjunction with a hydrometer.
Once the data has been gathered, you'll need to determine if there is excessive variability in the data.
Step 2: Confirm your Measurement System
Now you have the data, but you need to prove your measurement system is accurate, precise, in control and capable. This is a necessary step to ensure there is no excessive variability in your data (or in other words to know if the data you've collected is worth analyzing).
---
We'll be using Minitab Statistical Software next. No worries if you don't have it; download your 30-day free trial of Minitab 19 today
---
There are a couple basic statistical methods that you can do in Minitab Statistical Software to prove your measurement system is up to snuff including:
Once you've completed the methods above, you should be able to see either of the following in your data:
Little to no variance: Congratulations — this means your wine will deliver consistent residual sugar levels! Now you can use Minitab to help you assess product stability over time through control charts or see how well your wine is meeting specifications through capability studies.

Then if you need to improve performance, continue to Steps 3 and 4 to learn how to identify sources of variation and fit predictive models to make the best wine on the shelf!


More than a little variance: Use the results from your measurement studies to identify the sources of variation and work on minimizing the significant factors that contribute to the excessive variation.
Next Steps
Time flies when you're having fun making [consistent] wine! Complete your wine-making journey and see the remaining details for
Steps 3 and 4 in our free guide Ensure the Same Wine Every Time: Use Statistical Quality Control for Consistent Results.
---
Did you know Statistical Quality Control can be used for more than just wine production?
See how SQC helps with CBD oil levels in our blog
---